"I Am Happy to Take a Back Step" – Dee Devlin, Mother of Conor McGregor's 3 Children, Received Immense Respect From Her Fiancé When She Was Nominated for VIP Awards in 2016
Published 08/15/2022, 1:30 PM EDT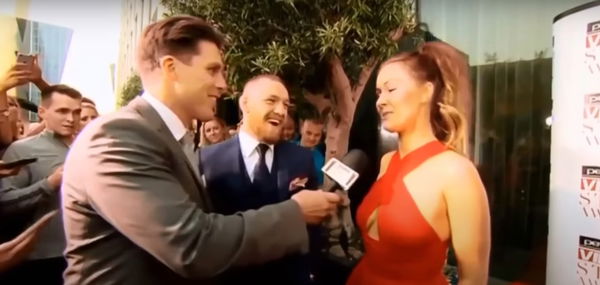 The king of UFC, Conor McGregor is not only a great fighter, but he is also a great partner. The Irish superstar is a complete family man and has utmost respect and adoration for his better half. Take a look at a sweet gesture that he made for his partner back in the day. 
ADVERTISEMENT
Article continues below this ad
The Irishman's partner Dee Devlin was nominated for the VIP Style Awards in 2016. While doing a short interview before the event, Devlin said, "I'm super excited to be honored obviously to be nominated and super excited, it's a great night always."
ADVERTISEMENT
Article continues below this ad
Following that, McGregor was asked to speak about it, and he stated, "I think how she looks and how she carries herself speaks for me, I don't have to say nothing. She does her thing, so I'm happy to take a back step and let her do her thing."
It is very aptly said that there is always a woman behind a man's success. And the UFC champ certainly has one. The two make a wonderful couple together and have three beautiful children making their family complete.  
Dee Devlin reveals how she felt the first time she saw McGregor fight
The pair has been together for over a decade since they first met in 2008. Apparently, the UFC superstar lives his life king size and has a great support system in the form of Devlin. While the lady luck of his life was doing an interview back in the day, she was asked how she felt when he faced tougher opponents. 
ADVERTISEMENT
Article continues below this ad
Devlin answered, "The first time I went to see Conor it was like 50 people in a room, in a ring and I thought I'm gonna vomit like there's no way you can get more nervous than this. Each time he just getting that more and more and I definitely as someone watching someone you care about getting in and it definitely gets me."
WATCH THIS STORY: "Help Me…" – 71-Year-Old Arnold Schwarzenegger Being Drop-Kicked by a Kid & Not Even Budging Got the Best Reaction from Joe Rogan Once
ADVERTISEMENT
Article continues below this ad
The 35-year-old said that she always got nervous before his fights. However, the champ is a phenomenal fighter and knows how to destroy his opponents. Currently, he is inactive in the sport due to his leg injury, but as per reports, he is going to make a comeback soon. 
Meanwhile, what do you think about McGregor's remarks about Devlin? Share it in the comments section below.