'I Choked Them Both'- Khabib Nurmagomedov Compares Conor McGregor and Dustin Poirier to Donkeys
Published 12/02/2020, 1:52 PM EST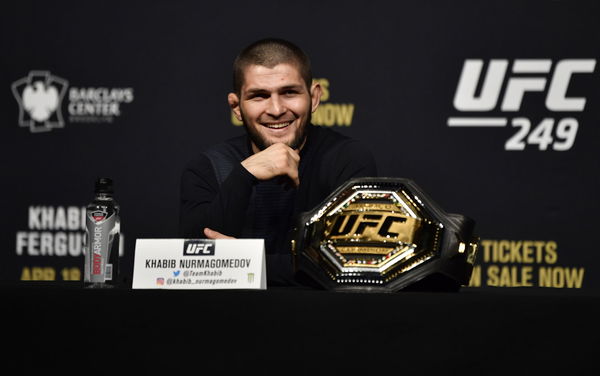 ---
---
Khabib Nurmagomedov is happily retired and has no interest in making a comeback. His father wanted him to go out at 30-0. However, the lack of an opponent is hindering his return. Moreover, the UFC lightweight champion, in a cheeky response, compared two of his past three opponents to donkeys.
ADVERTISEMENT
Article continues below this ad
Khabib talked to the media at the announcement of the acquirement of the promotion Gorilla Fighting Championship. After buying the promotion, Nurmagomedov has renamed it to Eagle Fighting Championship. He held a press conference in Russia to make the announcement.
ADVERTISEMENT
Article continues below this ad
It was here that the reporters fired questions at him regarding his potential return. As per the official UFC website, the Russian still holds the UFC 155-pound belt. UFC President Dana White has said that he wants to have a conversation with Khabib before he takes any step in that regard. Even Nurmagomedov doesn't mind being the reigning champ.
"It's great to be the reigning champion, I won't lie. The title will be vacated and there will be another champion. Let me enjoy it for now! Why do you want to take the belt off me?" Khabib said with a smile on his face (via RT Sport MMA).
Khabib Nurmagomedov says it will be a problem if Dana White offers him $100 million
Top lightweight contenders Conor McGregor and Dustin Poirier will meet inside the Octagon in January at UFC 257. The winner of the fight along with the decision of Nurmagomedov will decide who will fight for the title next.
However, as Khabib has already choked out both Poirier and McGregor, he thinks White will have to offer a ton of money to lure him in to fight the winner of the two.
"He'll probably offer money. It'll be hard to entice me with an opponent. What do you think? Who will he offer?" Khabib asked the reporter, who replied that it probably be the winner of Poirier vs McGregor.
"I choked them both out. Why? I fought them and choked them both out. What else is there?"
ADVERTISEMENT
Article continues below this ad
"See, again about money. There is no competitive interest. They are both former champions and I made them tap out. I don't want to fight them. The horse doesn't run until the donkey wins. That's an Avarian proverb. Donkeys don't even compete in horse races. I have no interest in going against them."
"I was saying – money. Imagine he offers me $100 million, now that will be a problem. But there's no interest from a competitive standpoint."
While Khabib is adamant that he has no competitive interest in a comeback, Dana White feels that the Russian still has one more fight left in him. The fans will have to wait until the UFC supremo sits down with the Dagestani juggernaut and talks about the future.
ADVERTISEMENT
Article continues below this ad