'I Didn't Have Food or Money'- Francis Ngannou Shares Heartbreaking Story of His Journey to UFC
Published 03/24/2021, 12:20 PM EDT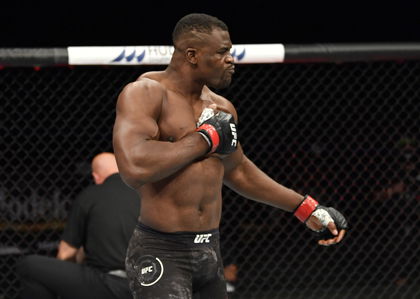 ---
---
Francis Ngannou is probably the scariest fighter to ever step foot inside the UFC Octagon. 'The Predator' will fight for the heavyweight strap for the 2nd time in his career as he looks to dethrone the consensus greatest heavyweight of all time in Stipe Miocic.
ADVERTISEMENT
Article continues below this ad
Ngannou's story of becoming an MMA fighter is nothing short of fascinating. He has been through a lot of struggles and was only a 6-fight veteran when he fought for the belt first term.
Not many could have endured the pain of losing such a one-sided loss under the brightest lights. However, Ngannou is truly a class apart and his rough road to fame was a primary contributor to it.
ADVERTISEMENT
Article continues below this ad
Francis Ngannou's journey from Cameroon to Europe
'The Predator' was born in Batie, Cameroon, a town with a population of just over 10,000 people. Ngannou decided to immigrate to Europe in the hopes of becoming a boxer. Although he had never stepped foot in a gym yet, that didn't stop him from pursuing his dream at a very tender age.
He started his journey from Cameroon and traveled over 2000 miles to reach Morocco. "My journey from Cameroon to Morocco was about one year, One year in illegal situations, crossing borders, living in the bush, finding food in the trash, living this terrible life," said the heavyweight contender.
Ngannou then reached the shores of Spain, traveling in ships across vast seas. However, more difficulty awaited him upon reaching the lands of Espana. He didn't have permission to enter the country and was sent to custody for 2 months.
"It was more stressful than scary. When we got to Spain, for the first while, we kind of relaxed, even though we were in jail. We knew we were going to go to jail when we got there. We would be free after, but we were going to go to jail [first]," he added.
It was definitely not the kind of welcome one expects upon reaching Spain. But he was habituated to the pain but admits it was not easy to bear the brunt of the mental stress.
"There was a lot of pressure in our minds. It was like a mental prison, not a physical prison. It was very hard," further said 'The Predator'.
Francis Ngannou finally arrives in France
After being released from custody, Ngannou finally arrived at the 'City of Lights', Paris. Although he spent countless nights on the streets, he always knew this was but a short phase of his life that lay the foundation for the greatness he achieved in the octagon.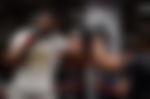 "I was homeless then, but at that moment, it wasn't difficult for me anymore. You might think being homeless in Paris in the fall when it's cold was not great, but the enthusiasm that I had at that time…
"Beyond everything, I was happy to be in the land of opportunity. I was happy to have my own life and be able to chase my own dreams. So that's definitely one of the happiest moments of my life," Ngannou said about his first experiences of Paris.
"Even though I was sleeping in parking lots and I didn't have food or money, I was just free. Compared to where I was in Morocco, a parking lot was like a five-star hotel," he added further.
"It took me almost 10 years [from the time I set my goal] to step foot in a gym for the very first time, but I always believed it would happen," he concluded on the topic.
Can Francis Ngannou become a global superstar at UFC 260?
The hardships that he has endured are beyond normal. But his sacrifice and determination of pursuing his goal regardless of the road-blocks are exemplary. He will fight the biggest fight of his career against Miocic this weekend.
'The Predator' is a fan favorite due to his explosive style of fighting and the ability to knock opponents out cold. He will truly transform himself into a global superstar with a triumph at UFC 260.
ADVERTISEMENT
Article continues below this ad
Of course, he wants to become the undisputed UFC Champion considering how the root of all his struggles was to realize that dream one day.
What's more, he is an arm's length away from embracing his destiny. Whether he can actually grab hold of the UFC strap remains to be seen. Either way, he deserves to get his intriguing story to the pinnacle of combat sports heard by the fans.
What did you make of Francis Ngannou's journey to the UFC? Will he become the undisputed UFC heavyweight champion this weekend?
ADVERTISEMENT
Article continues below this ad