'I Don't Recognise Myself'- Francis Ngannou Says He Hates Watching the Defeat Against Stipe Miocic
Published 03/26/2021, 5:30 AM EDT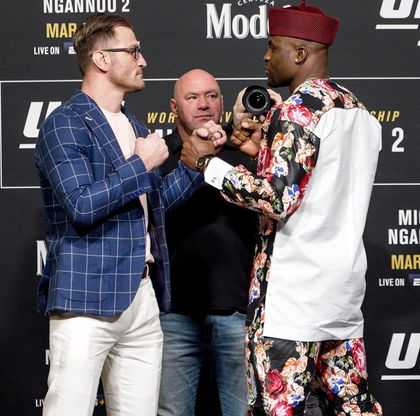 ---
---
Francis Ngannou will look to capture the holy grail of the heavyweight division of the UFC this weekend. 'The Predator' will make his second bid at the championship after being unsuccessful in his first attempt against champion Stipe Miocic at UFC 220. The Cameroonian was on the wrong end of a one-sided loss in 2018.
ADVERTISEMENT
Article continues below this ad
Miocic took Ngannou to deep waters in their UFC 220 contest, and 'The Predator' has revealed that he didn't like his performance in that contest. "I remember that fight from the preparation. And obviously, I'm not thinking clearly of Stipe. He was a better fighter that night. But when I look at that fight, I hate to watch the fight because I don't recognize myself," said Ngannou.
ADVERTISEMENT
Article continues below this ad
"Even the way that I'm firing, the way that I'm rushing. Does that guy look like me? But I don't recognize that sort of stuff. And also, I have a lot of I did a lot of mistake leading up to that fight. I wasn't even though myself, you know, I kind of like I didn't even have a emotion in that fight," he added.
"Don't know how just they're like, lack of emotion. But this time, things will be different," Ngannou said further displaying his confidence in altering the outcome this term.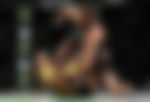 Miocic utilized his excellent boxing skills to avoid Ngannou's powerful offerings and dominated him on the floor to eventually earn a lopsided decision in his favor. 'The Predator's adjustments will play a huge role in determining how the fight will go this time around.
Can Francis Ngannou put up a different fight at UFC 260?
The no.1 heavyweight contender has been on a roll since his loss at UFC 220. It took him a combined time of 2 minutes and 42 seconds to win his next 4 outings. The consensus belief is that 'The Predator' is a different fighter than his first contest against Miocic. However, that hasn't been displayed yet, as he was on the same kind of streak coming into the first contest.
ADVERTISEMENT
Article continues below this ad
It remains to be seen if he has indeed rectified his conditioning and wrestling issues this term. He has certainly improved with time, as he is a more mature and well-trained fighter now, but the champion has improved too. Hence, it will be a matter of who can impose their skills in the bout and eventually get a win.
For Ngannou, though, it only takes one shot to change the landscape of any fight, and in this fight, one shot can change the landscape of the division.
Will 'The Predator' become a UFC heavyweight champion at UFC 260 and dethrone Stipe Miocic? What do you think?
ADVERTISEMENT
Article continues below this ad