"I Don't See It Necessarily in a Malicious Way" – Georges St-Pierre Gave His Two Cents Behind Conor McGregor's Trash-Talk of Khabib Nurmagomedov
Published 05/12/2022, 7:40 AM EDT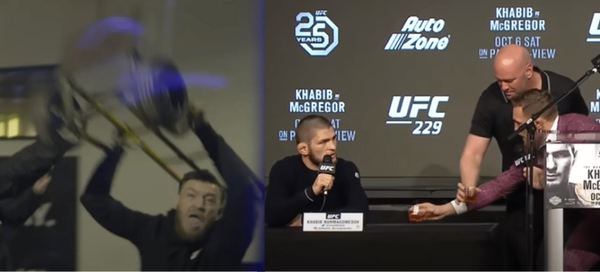 Conor McGregor and Khabib Nurmagomedov had one of the most talked-about rivalries in combat sports. And it's uncertain that it's over, as both fighters are still in their primes and the age is on their sides.
ADVERTISEMENT
Article continues below this ad
At the peak of their rivalry, ahead of UFC 229, the Irishman made some bold claims that ruffled a lot of feathers. The Russian fighter felt frustrated by McGregor's comments; however, he responded with his performance as he handed McGregor his first loss at 155 lbs in the UFC.
ADVERTISEMENT
Article continues below this ad
During the bout, 'The Notorious' made a comment that 'The Eagle' despised. With that in mind, the UFC Hall of Fame and the former UFC welterweight and middleweight champion, Georges St-Pierre, expressed how McGregor's trash talk ahead of UFC 229 might have more depth.
'Rush' said, "To be successful in this business of fighting – you need to be skilled, but more than that, you need to be charismatic."
"You need to be like you are, and sometimes it's not necessarily malicious… We all do this, for the best of our own interests, and some guys they will do this because they know that's the best way they can help themselves achieve what they want to achieve. It's not; I don't see it necessarily in a malicious way."
"Conor McGregor will say stuff that are very edgy, I mean, for me, it's not. It could become personal because he will attack your personal life, but it's business in a way," concluded St-Pierre.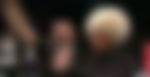 The Canadian sports legend, St-Pierre, maintained perhaps McGregor was at his best when he engaged in the trash talk. Thus, his actions against Nurmagomedov or any of his former opponents are more to drive himself than to derail them.
Conor McGregor: One of the best to get into his opponent's mind
The Irish superstar has amazing skills on the feet; It was on full display ever since his debut knockout. However, there was more to his game than beating his opponents inside the Octagon.
ADVERTISEMENT
Article continues below this ad
'The Notorious' lived to his moniker and made sparks inside the UFC featherweight division. Every featherweight fighter wanted to get their hands on 'Mystic Mac.' Many doubted his actual martial arts skills as they saw the brash talker. However, when they found themselves against McGregor, they crumbled.
WATCH THIS STORY – 5 Potential Opponents For Michael Chandler After A Devastating Knockout Win Over Tony Ferguson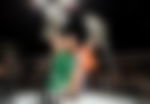 Even before the fight started, McGregor took an important aspect of the fight game–composure, away from his opponents. Thus, his trash talk and fluid hands made him the first simultaneous double champion in UFC history.
ADVERTISEMENT
Article continues below this ad
What do you think of Georges St-Pierre's remark about Conor McGregor and his before-fight persona?