"I Don't Wanna See This Sh*t, Take It Away"- Joe Rogan Left With Sweaty Palms Watching Climber Scale Skyscraper Without Safety Equipment
Published 05/14/2022, 10:45 AM EDT

Follow Us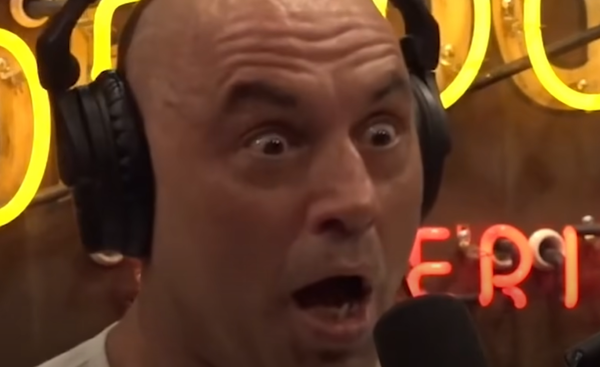 The UFC color commentator and JRE podcast host, Joe Rogan, got terrified after watching an image of a climber scaling a skyscraper without safety equipment in the latest episode. 
Given his interest in hunting and trekking, the 54-year-old Rogan is one of the most adventurous personalities in the fight business. Moreover, Rogan was also the host of the celebrity stunt show Fear Factor. Hence, it is pretty unusual to see the UFC commentator get scared by a picture of a climber.
ADVERTISEMENT
Article continues below this ad
However, on the latest episode of 'The Joe Rogan Experience' podcast, he got his hands sweaty watching rock climber Alex Honnold climbing a skyscraper. Recently, Rogan had the Canadian-American stand-up comedian Christina Pazsitzky on his podcast.
During the episode, while discussing the Himalayas, Rogan and Pazsitzky stumbled upon the pictures of the rock climber, Alex Honnold. In the picture, Honnold was hanging on a skyscraper.
On seeing the picture, Rogan got terrified and said, "Oh my god, he is climbing a f**king building. He is so high. That's so crazy. It says he climbs halfway up New Jersey's skyscraper."
WATCH THIS STORY: 5 Potential Opponents For Michael Chandler After A Devastating Knockout Win Over Tony Ferguson
"Why half? How does he gets back down? What happens then? Do you slide down? My hands are so sweaty. So sweaty. I don't wanna see this sh*t. Take it away." Rogan concluded. 
Watch: Joe Rogan performs a bizarre stunt
In the early stage of his career, the thrill-seeker Joe Rogan hosted a famous daredevil stunt show called Fear Factor. In the show, Rogan used to give challenging stunts to the celebrity contestants.
ADVERTISEMENT
Article continues below this ad
However, the UFC commentator even performed those stunts himself. During one episode of the show, Rogan asked a female contestant to eat a live cockroach. However, she denied the difficult task at first.
But Rogan promised to do the same if the contestant performed the stunt to win the task. And while keeping his promise, Rogan picked up a live cockroach and ate it like a candy. It was a horrendous sight.
READ MORE- From Brock Lesnar to Sylvester Stallone: Expected Upcoming Guests on The Joe Rogan Experience Podcast on Spotify
ADVERTISEMENT
Article continues below this ad
However, the then host Rogan didn't even have a second thought before performing the stunt. This proves how thrilling the UFC commentator is.
What are your thoughts on Joe Rogan performing the bizarre stunt? What do you think of Rogan getting scared of the image? Let us know in the comments below.