'I Just Have to Move on' – Francis Ngannou on Jon Jones Fight Not Happening
Published 04/01/2021, 1:45 PM EDT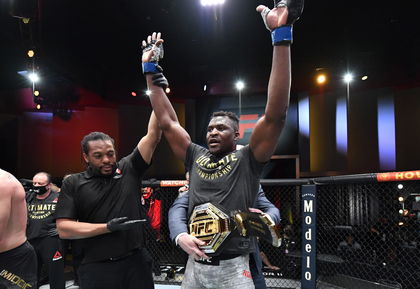 ---
---
Francis Ngannou has been doing his rounds in the media since his dominant display against Stipe Miocic, which earned him the belt. Rumors floating around now suggest a fight with one of Jon Jones or Derrick Lewis. However, a fight against Jon Jones would mean a huge payday for both of the fighters, as Jones has asked for much more than 10 million dollars for the fight.
ADVERTISEMENT
Article continues below this ad
Keeping that in mind, there is a possibility that the fight won't happen, and Ngannou will face Derrick Lewis instead, who has hilariously proclaimed that he would fight 'the Predator' for 8 million dollars.
Ngannou talked to MMA on SiriusXM and discussed the possibility of the fight against Jones not materializing.
ADVERTISEMENT
Article continues below this ad
Former UFC women's bantamweight champion Miesha Tate asked him about his thoughts in the case that the fight doesn't happen, and Ngannou answered, "I don't make fights. I'm just the fighter."
He added that it would be a good fight. "That will be sad. I think that is a very good fight for everyone. Not just only for me, not just only for Jon Jones, and even for the UFC, for the fans," he said.
Ngannou also mentioned that people have been asking him about a potential fight against Jon Jones ever since he started MMA. They were asking him questions about the fight even before 'Bones' moved up to heavyweight.
Francis Ngannou won't stop and wait for Jon Jones.
Francis further elaborated that he really wanted this fight and said, "At the end of the day, I truly want this fight. This will be a big fight. If it doesn't happen, what can I do? I just have to move on."
ADVERTISEMENT
Article continues below this ad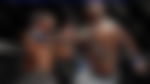 Ngannou mentioned the other potential opponent, Derrick Lewis, and said, "I want to fight. I want to stay active. Derrick Lewis is there, and I think that would be a good fight as well."
Do you think Jon Jones or Derrick Lewis can beat Francis Ngannou? Do you think there's anyone in this world who can beat this version of the Cameroonian?
ADVERTISEMENT
Article continues below this ad