"I Like the Universal Fighters"- Valentina Shevchenko Picks Kamaru Usman Israel Adesanya and Others as the Most Watchable MMA Fighters
Published 09/16/2021, 1:44 PM EDT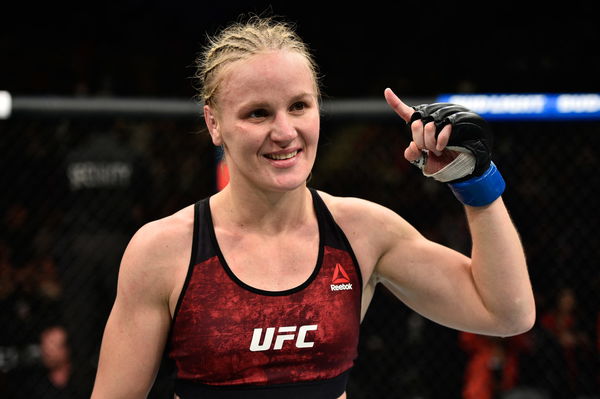 ---
---
Valentina Shevchenko recently appeared on The MMA Hour with Ariel Helwani. During the interview, the fighter answered various questions about the different aspects of her MMA career. Helwani also asked Shevchenko about her favorite MMA fighters and who she loves to watch.
ADVERTISEMENT
Article continues below this ad
'Bullet', however, revealed that she does not focus on the fighter and how she rather loves to watch the art of MMA. She said, "When you are a professional fighter, you actually don't focus much on the name. Your focus is more on the quality of the fight."
ADVERTISEMENT
Article continues below this ad
"Because sometimes there are so many fighters in the UFC or other promotions and they are showing so good fight. So great technique, so like excellent tactic and you are like, wow, this was an excellent fight, this is so nice to watch."
So in general, my answer is I'm not sticking to the names. I'm just about the fight by itself because I really like to watch the art of martial arts no matter who performs in it."
Watch This Story: 5 Interesting Facts You Need to Know About Anthony Joshua
Shevchenko is an MMA legend and has been professionally competing since 2003. Currently, the fighter is a UFC champion and has an incredible MMA record of (21-3). Shevchenko's record is a testament to how much she loves fighting and how she always looks to improve.
This was also evident from Shevchenko's answer and by how she talked about loving the quality of the fight rather than the fighter.
Valentina Shevchenko reveals what she likes in an MMA fighter
While 'Bullet' did not choose any fighter as her favorite, she did talk about which fighters she prefers to watch. Shevchenko talked about how she loves to watch 'universal fighters' who are apt in every aspect of MMA.
The UFC champion also named a few UFC legends that she thinks are universal fighters. She said, "I like the universal fighters who can do everything. Like striking, grappling. For example, Kamaru Usman. He is a great example of it. Israel, Jon Jones."
"Fighters like who have a lot of character, charisma. Like Jorge Masvidal same like Nick Diaz. So it's kind of like you cannot just say fighter because of his fight style because you're choosing your favorite fighter."
"You like his or her charisma, and this is like a combination of everything. How everyone, every person can bring out the fight style plus their style of being acting or what they are doing before the fight, in the fight, and after the fight. So it's like a very good combination of everything."
ADVERTISEMENT
Article continues below this ad
Whenever it comes to picking a favorite fighter, everyone has a different opinion, and it all boils down to the individual's personal choice. And while 'Bullet' also believes in that, she herself is clearly a fan of fighters who not only fight well but also have personality otherwise.
Watch This Story
Who is your favorite MMA fighter? Let us know in the comments.
ADVERTISEMENT
Article continues below this ad