'I Look Like a Complete A** Hole'- UFC Commentator Jon Anik Comments on Embarrassing Moments With Joe Rogan
Published 04/24/2021, 10:42 AM EDT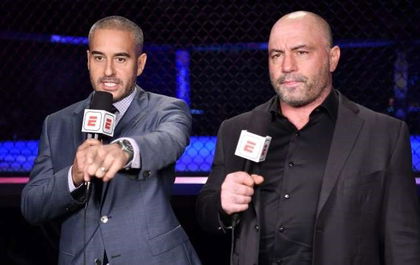 ---
---
UFC color commentator Jon Anik will broadcast the UFC 261 event this weekend alongside the familiar faces of Daniel Cormier and Joe Rogan. The trio has been in the commentary booth for a long time together now. They never fail to produce iconic reactions whenever there is an exceptional moment.
ADVERTISEMENT
Article continues below this ad
However, Anik is not at all worried about that as he says he is entirely focused on his work of commentating. "I know that they're only going to my camera if they don't have anything good from Rogen or DC you know, now that we're all together, maybe you'll have some of those group shots again, but not even thinking about it, man, you know, super embarrassing for my family and my wife when they run those things back I look like a complete fucking a**hole.
ADVERTISEMENT
Article continues below this ad
"Sorry. But no, I'm not thinking about that. I mean, there's so much going on as you guys know with this broadcast eight hours on a headset, constant communication with the truck, half the time I'm calling a fight. I'm sitting on a promo car trying to get that in," Anik added.
"So last thing I'm thinking about in a big moment is that it might be reproduced on camera, but I don't know, maybe I'll think about it tomorrow night. Now that now that you got me thinking about it," Anik said, implying there won't be much change in his behavior once the event gets going.
Jon Anik will be accompanied by Joe Rogan and Daniel Cormier
The UFC will be having their best 3 broadcasters on board for the mega pay-per-view this weekend. The UFC 261 card will feature 3 blockbuster title fights. So, one can expect many memorable moments to come during the show. Exciting knockouts and submissions never fail to bring the best reactions out of Anik, Rogan, and Cormier.
ADVERTISEMENT
Article continues below this ad
So, we can expect some more of those memorable reactions on display when things start this weekend. How many new champions emerge from those 3 title fights is another interesting question.
What did you make of Jon Anik's interesting answer? Who are your picks for UFC 261? Let us know.
ADVERTISEMENT
Article continues below this ad