"I Never Really Enjoyed Fighting" – Georges St-Pierre Says He Never Had Fun in UFC In His Career
Published 10/11/2021, 9:38 AM EDT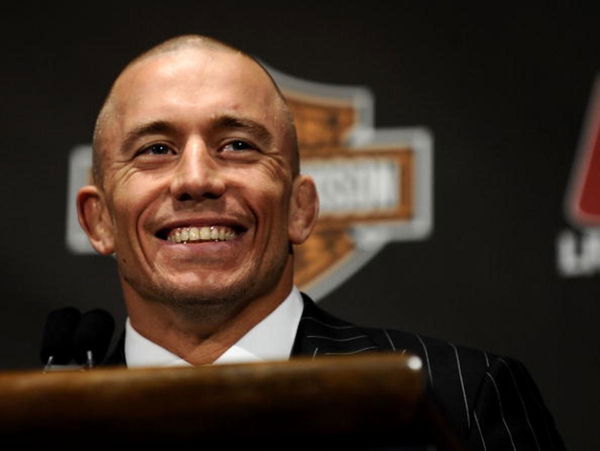 ---
---
Georges St-Pierre is arguably one of the greatest mixed martial artists of all time. He is a former two-division UFC champion and one of the loved fighters out there.
ADVERTISEMENT
Article continues below this ad
Having fought 28 times with a 26-2 record, one might think St-Pierre loved going into the octagon to fight, but that is not the case. The now-retired MMA fighter, on multiple occasions, has talked about his dislike for fighting and how he never really enjoyed it. St-Pierre, in an interview, was asked if being at UFC 266 brought back some of the angst from his fighting days.
ADVERTISEMENT
Article continues below this ad
In the interview, Georges said, "I never really enjoyed fighting. I used fighting as a benchmark to get me where I wanted to get to in life, I never enjoyed it, not even a second. I enjoyed the training, loved the freedom that comes with it. When you're good, you have a lot of freedom. I have no boss, I can get off the radar for six months if I want. I also liked the fact that it keeps you fit because you're into sport. So, I like the training, the mentality of martial arts, but the fight itself I really don't miss it at all." 
This is not the first time St-Pierre has talked about his dislike. In a Joe Rogan podcast, Georges talked about how he took his fighting career too seriously. He said he was starting to take too much pressure at the end of his career and didn't take it for what it was. Nick Diaz, before his return at UFC 266, wasn't sure why he was returning. St-Pierre said that he understood what Nick felt and said he hated it.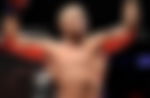 Georges St-Pierre – Not just a fighter
ADVERTISEMENT
Article continues below this ad
Georges St-Pierre is a former two-time UFC welterweight champion and also a former UFC middleweight champion. 'Rush' initially announced his retirement from MMA in 2013 after successfully defending his welterweight title at UFC 167. He returned to the UFC, after a four-year hiatus, to take on then UFC middleweight champion, Michael Bisping. He beat Bisping in his return bout via technical submission to take the title. With the win, St-Pierre became the fourth fighter in the history of the UFC to be a multi-division champion.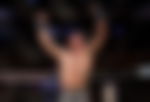 Watch This Story
Other than fighting, St-Pierre has also made a name for himself in Hollywood. During his four-year hiatus, he bagged a role as Georges Batroc in Captain America: The Winter Soldier in 2014. Since then, he has worked in movies like Kickboxer: Vengeance and Cartels. He also reprised his role as Georges in the hit Marvel series, The Falcon and the Winter Soldier, and voiced the character in the animated series, What If…?
ADVERTISEMENT
Article continues below this ad
When asked if there were any similarities between preparing for a movie and fighting, Georges said, "I think I was acting all my life because I never enjoyed fighting. It felt extremely uncomfortable and unbearable to me. However, I pretended in front of the camera and in front of my opponent, and I put on a poker face, and I pretended I loved it, that I was excited! But I wasn't at all; I didn't have any fun."
WATCH THIS STORY – Khabib Nurmagomedovs Greatest Investments