'I Realized People Don't Give a C**p' – Aljamain Sterling Explains Why He Went Full Heel After Becoming the UFC's Bantamweight Champion
Published 08/28/2021, 8:13 AM EDT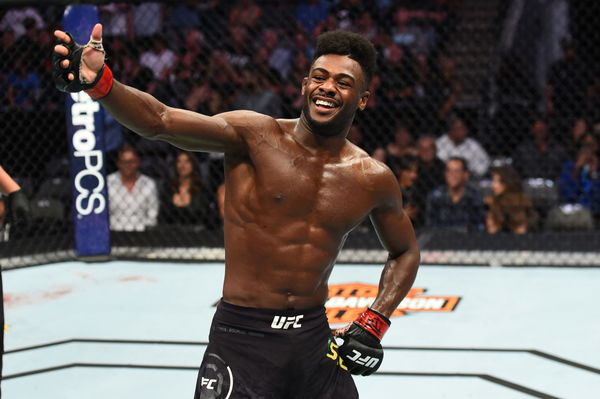 ---
---
Soon after receiving the bantamweight title at UFC 259 via disqualification against Petr Yan, Aljamain Sterling took to Instagram to share a close celebration with his family. This didn't sit well with many MMA fans and fighters alike, considering the manner in which he got the belt. 
ADVERTISEMENT
Article continues below this ad
Aljamain Sterling has quickly become one of the most polarizing figures in the UFC. Surprisingly, the 32-year-old has gladly taken on the role of the heel, regularly infuriating fans on social media.   
In a recent interview with Chris Weidman, Aljamain Sterling explained why he went down the path of an antagonist after becoming a UFC champion.
ADVERTISEMENT
Article continues below this ad
"I was told I was partying, I was told I was getting s**t-faced. It was like the stuff that made no sense, cause it's like, how do you even know any of this when you weren't even there? And that was the most frustrating part because I was defending myself trying to say 'Guys, I wasn't even drinking.' And I thought to a point where I was like, ' Yo, these people don't even care, they're just mad that Petr Yan was stupid, and he lost the fight, and it's on him, and I have the belt.' So, I got to the point where I stopped defending myself, and I realized these people don't give a c**p about anything but their guy', there's almost like a McGregor cult… So, it is what it is, and that's why I started floating the belt and started putting it in people's faces." 
Whatever the case may be, Sterling now has another opportunity to silence the haters once and for all. 'FunkMaster' will defend his belt against Petr Yan in a rematch at UFC 267.   
Aljamain Sterling vs Petr Yan: The rematch 
 Soon after becoming the champion, Aljamain Sterling chose to take some time off. This, so he could undergo surgery for a severe neck injury that he had been dealing with for quite a while
Now, as he has recovered, both fighters are finally ready to face each other for the second time at UFC 267. Although Petr Yan was the superior fighter in their first meeting, one can expect Aljamain Sterling to be back on his A-game.     
ADVERTISEMENT
Article continues below this ad
Regardless, come fight night, the bantamweight division will have an undisputed and unquestionable champion. The new king at 135, will then have to defend his throne against the likes of T.J Dillashaw and Rob Font, or perhaps, engage in a trilogy against the loser of the UFC 267 bout.
What do you think? Who wins the rematch? Let us know in the comments.
ADVERTISEMENT
Article continues below this ad
Watch This Story: Darkest Moments of Tyron Woodley's Life: From Growing Up in a Dangerous Neighborhood to His 4-Fight Losing Streak