'I Think He's Afraid to Fight Me' – Conor McGregor Claims to Have the Answer for Destroying Khabib Nurmagomedov
Published 01/15/2021, 5:18 PM EST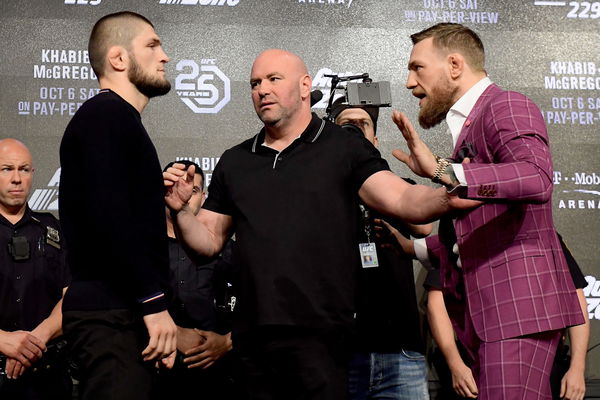 ---
---
Conor McGregor isn't showing signs of a big feud with his next opponent, Dustin Poirier. However, when it comes to his former foe, Khabib Nurmagomedov, McGregor doesn't hold himself back. The Irishman has accepted that the version of him that fought the lightweight champ was the worst ever. On top of it, a confident McGregor also boasts of having figured out how to hand Khabib his first defeat.
ADVERTISEMENT
Article continues below this ad
In an interview with ESPN, McGregor came out all guns blazing on Nurmagomedov. While he seemed to understand his reasons for retiring, he still doesn't think it was justified on his part to do so.
ADVERTISEMENT
Article continues below this ad
"I think he's afraid to fight me. That's for damn sure. I don't blame him. I fought the best of him on that night, he fought the worst of me that night. He knows it. I know it. His team knows it. I have the answer to destroy that man. He can pull the wool over people's eyes for only so long. It is what it is. I know there're surrounding things regarding the family and that. If he's retired, then that's it. I wish him well. It is what it is," McGregor said.
"But I am what I am. And I am at the top. Time will show," he added.
Conor McGregor claims Khabib Nurmagomedov 's**t on the bus' in 2018
The fight between McGregor and Nurmagomedov spilled outside the Octagon as well. From McGregor throwing a dolly on a bus with Khabib on it to the latter jumping in the crowd to settle his score with McGregor's teammates, the rivalry between the two was as personal as it could get.
With the Russian announcing his retirement, the door on a rematch between the two is temporarily closed. However, looking at how bent Dana White is over bringing Khabib back, it shouldn't be surprising to see him coming out of retirement. Regardless, McGregor claims 'The Eagle' retired so that he could avoid a rematch would him.
ADVERTISEMENT
Article continues below this ad
"Yes. I would say so," McGregor replied when asked if Khabib retired so that he wouldn't have to fight him again. "I think his hand was shown. He's not a true fighter, in my opinion. How could you walk away? There's so many great fights to be had. Think of the Diazs, the Fergusons, the Oliveiras you know. The rematch against me, I think it's just preposterous to walk away."
"I think not only did he s**t on the bus, I think he p**sed on the chips also. I think he showed his hand but then at the same time, you know, there is family issues. You know, it is what it is so all the best," McGregor added.
Despite his brash trash-talks, McGregor seems more considerate towards his opponent's family as compared to the last time. Perhaps it is the effect of maturity slowly taking over 'The Notorious One'. Nevertheless, if he manages to win at UFC 257, expect him to have a full-blown call-out ready for Khabib Nurmagomedov.
ADVERTISEMENT
Article continues below this ad