'I Told You Already Its Haram': Dana White Eating the "Grossest Thing" on His Own Food Show Gets a Cheeky Reply From UFC Star
Published 01/02/2023, 1:42 AM EST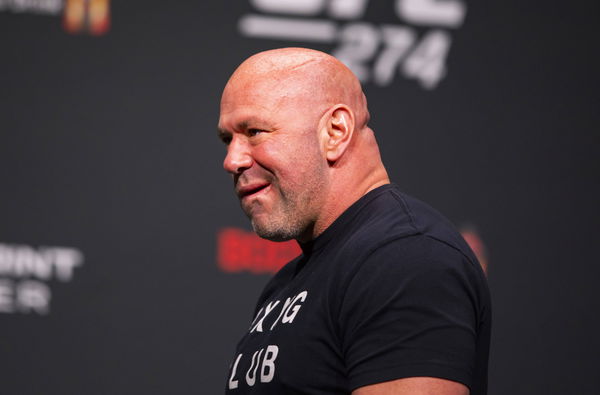 A New Year brings with it new hopes and new aspirations. Dana White took up a new role on New Year's eve. The UFC president has shared a video on Instagram where he can be seen making a special pancake. The video shows White using batter with cheese and pork to cook a pancake. He appeared to have succeeded in his quest, too. He even tasted it in the latter part of the video. It was something that happened at this stage that made the video worth watching for fans.
 

View this post on Instagram

 
ADVERTISEMENT
Article continues below this ad
As Dana White tasted the experimental pancake, his face had enough indications about how it tasted. While fans were quick to offer advice and thoughts, some found it very hilarious. Dana White has a massive following on 'the gram'. He has almost 8 million followers on his handle and his followers did not hesitate in sharing their thoughts.
Dana White cooks up a strange pancake
Fans had a lot to say about White's culinary skills. While few found it hilarious that the pancake didn't turn up as expected.
UFC Flyweight fighter Amir Albazi commented, "It's because it has bacon dana, I told you already it is haram."
Rashad Evans had a funny take too. He commented, "I could've swore you were gonna say it's good…
Another user who seemed really excited to be watching Dana white prepare the pancake wrote, "I like these videos so much more when the food isn't good lol… your reaction is hilarious. "
A fan with keen eyes was quick to notice that White was a little hesitant before trying the dish himself. He said, The hesitation before the bite said it all." Another fan felt the pancake needed some sides. He wrote, "Needs Syrup".
ADVERTISEMENT
Article continues below this ad
Other users had some interesting takes too. A user commented, "Should have tried it with Thai chilli peppers." Another fan invited the promoter to his own show saying, "Jesús you should bring these concoctions on my show haha.. my god I couldn't"
White didn't like what he cooked
Dana White has cooked up a lot of great things, including the UFC and the upcoming Power Slap League. He, however, seems to have failed in his latest assignment. The pancake he cooked failed to impress him.
ADVERTISEMENT
Article continues below this ad
As he chewed on a morsel he said, "That's one of the grossest things I have eaten." The experiment may have failed, but it will not stop White from trying out his hands at new opportunities. Would you like to taste Dana White's experiment?
Watch This Story: WTF is this madness Dana? Despite being bewildered by Dana White's Power Slap Conor McGregor is in with the Leagues