'I Want a Trilogy'- Colby Covington Makes a Huge Statement on Kamaru Usman Fight
Published 06/16/2021, 12:07 PM EDT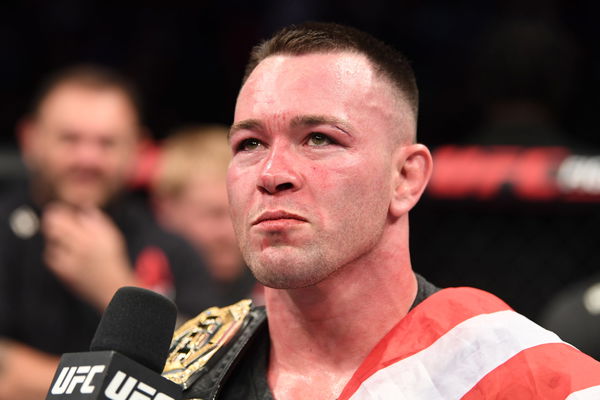 ---
---
Colby Covington is the #1 contender for the welterweight gold. He will soon clash against the 170 lbs champion Kamaru Usman inside the octagon. However, that's not it while talking in an interview with the Submission Radio 'The Chaos' hinted about a trilogy with the now champion Usman.
ADVERTISEMENT
Article continues below this ad
While talking about his next move after the title shot whether he will move on to the next contender or do a rematch with Usman Covington said, "No absolutely I want my trilogy I've told the UFC since day one there will be a sequel and there will be a trilogy you know I'm not gonna have any stones unturned I want this fight and the fans and the people to know who is the best fighter in the world and that's by me solidifying myself as the greatest fighter and not just beating him once but going out there and beating him twice and proving it you know he hasn't proved it yet."
ADVERTISEMENT
Article continues below this ad
He added, "So that's why I am asking for this rematch because I want him to prove it if he is the best prove that you're the best but you know I'm going to go out there and I'm going to prove I'm the best next fight and if he wants another fight at me honestly guys, I don't think he's gonna want another fight after what I do to him in this next fight."
After his previous loss, 'The Chaos' has improved his skills and changed his training methods for redemption.
WATCH THIS: 5 UFC Fighters Who Are Still Unbeaten In Their Professional MMA Career
Colby Covington Says Kamaru Usman Is Scared
Colby Covington lost his welterweight title to Kamaru Usman at UFC 245. 'The Chaos' was on a seven-win streak before the bout. He lost both his gold strap and his win streak against the Nigerian native. Hence this rematch is an important fight for Covington to prove his dominance in the division.
While talking about his training with Denis Shkuratov of Submission Radio Covington said, "I am a completely different involved fighter with my new team at Colby Covington incorporated and MMA master Caesar Carnero we've made huge strides in my striking game Daniel Valverde my judo, and jiu-jitsu coach made unbelievable progress in my submissions and my finishing skills."
 

View this post on Instagram

 
"So you know I just don't I don't know if Marty's (Kamaru Usman) gonna want to fight me ever again look at him now guys he doesn't want to fight me now he's scared he's running he's finding any excuses in the book not to fight me I mean he's fleeing the country to get away from me."
ADVERTISEMENT
Article continues below this ad
Covington is putting in the work, and he looks stronger than he was before. He is surely ready to get his hands on the gold strap. Covington claims Usman is not cooperating ever since Jorge Masvidal fight he is making excuses for the title bout.
However, it is surely going to be an amazing match between these fighters. Fans haven't seen Covington inside the octagon for a while now. So this fight is going to garner a look of attention from the combat fans.
What do you think will Colby Covington claim the welterweight gold this time or will he face the same fate? Let us know in the comment section below.
ADVERTISEMENT
Article continues below this ad