Michael Chandler Says Ric Flair, Steve Austin, The Rock and Other WWE Stars Inspired Him
Published 05/10/2021, 1:39 PM EDT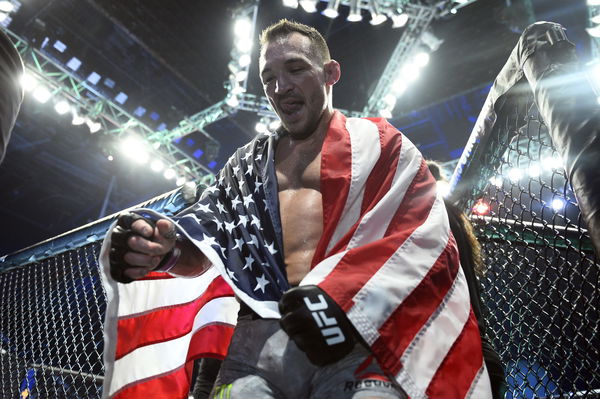 ---
---
UFC lightweight contender Michael Chandler has enjoyed a splendid start to his UFC career. The American came over from Bellator after being the lightweight champion multiple times.
ADVERTISEMENT
Article continues below this ad
He was immediately thrown into the cauldron by being the backup fighter for the title fight between Justin Gaethje and Khabib Nurmagomedov.
That fight went ahead as planned, and Chandler was now going to face Dan Hooker at UFC 257 on the same card in which Dustin Poirier and Conor McGregor were fighting.
ADVERTISEMENT
Article continues below this ad
He beat Hooker via a first-round knockout and launched his stock into superstardom. He ended the fight with a speech resembling one made by Ric Flair and revealed that he was a massive Ric Flair fan.
It only got better from there as Ric Flair reached out to him and talked to him. He talked about it in an interview with BT Sport and revealed how stoked he was to talk to one of his boyhood heroes.
The interviewer asked him about the call, and Chandler replied, "Woooooo! That was awesome, man. It was so cool, man. Whenever I got reached out, I looked at my phone and was like, 'Ric Flair wants to call me?'
"Then he's like, 'What's up brother' in typical Ric Flair fashion. He's like, 'Man, I'm getting a lot of media buzz right now cause of some guy who kicked someone's ass in UFC.' Then we started talking about a little bit of stuff," Chandler added.
Michael Chandler will try to make Ric Flair proud
Additionally, he talked about his childhood. "I was a pro-wrestling fan, especially growing up. Ric Flair, Diamond Dallas Page, Steve Austin, The Rock, those were the guys that I looked up to and wanted to be like.
"Here I am getting to do it in a real fashion in front of millions of people."
ADVERTISEMENT
Article continues below this ad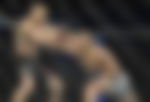 He really is a huge personality now and deserves all the plaudits he is getting. "To have a new friend like Ric Flair is really cool, and I'll try to keep on making him proud," he concluded.
Furthermore, he is going to occupy the main stage again at UFC 262. Chandler is fighting Charles Oliveira for the lightweight crown. Maybe the fans will be treated to the spectacular sight of him walking out with Ric Flair. That would really be something.
ADVERTISEMENT
Article continues below this ad
Do you think Michael Chandler can beat Charles Oliveira?