"I Will Release the Footage"- Ciryl Gane's Coach Threatens to Release BTS Footage of Francis Ngannou Being Knocked Out
Published 01/06/2022, 1:45 PM EST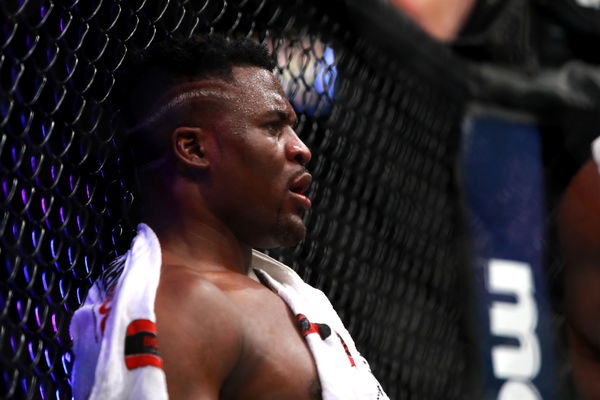 As Francis Ngannou and Ciryl Gane's title unification bout lurks right around the corner, there are fresh revelations being made every day. However, nothing tops the viral sparring video of both the heavyweight champions in their early days.
ADVERTISEMENT
Article continues below this ad
Although, that isn't the only link that connects the 265-pounds elites together. Both fighters have also trained under Coach Fernand Lopez at some point in their career. However, now the coach is all out against his former pupil, Francis Ngannou.
While speaking with LowKick MMA regarding the massive title unification bout of his current pupil, Ciryl Gane, Lopez made some outrageous claims. The former coach of the 'Predator' stated that 'Bon Gamin' managed to stop Ngannou and left him sitting, and it was him that has prevented the extra clip from being released.
ADVERTISEMENT
Article continues below this ad
"That footage is Francis Ngannou. But what is true is that footage do not tell everything that happened in every training. Because there were so many training where Francis Ngannou edged Ciryl and so many training where Ciryl edges Francis. But, there's no any manipulation," Coach Lopez told Lowkick MMA.
"Francis Ngannou do not want me to release all the footage… Francis Ngannou eat a body knee in the liver, sat down, stop the training, this is fact. So, if I wanted to release a footage showing a bad side of Francis- this is what I will show. If Francis is saying this is not true. Tomorrow, I will, if he's saying that's not true. I will release the footage. My community manager didn't want to release the footage because we have a privacy in the gym," Lopez continued.
What's the beef between Francis Ngannou and his former coach
'The Predator' and 'Bon Gamin' used to train in the same gym, MMA Factory, France. However, Francis Ngannou split with his coach, Fernand Lopez, on bad terms after his defeat to Stipe Miocic at UFC 220: Miocic vs. Ngannou.
Since then, Ngannou has labeled his coach 'Evil' as he believes coach Lopez made up a story of him trying to persuade the UFC matchmakers to block Gane's entry into the UFC. 'The Predator' also revealed that this is being done deliberately to portray him in a poor light.
ADVERTISEMENT
Article continues below this ad
"They sent me something like, which his coach said about. He said I told Mick that Ciryl is good but not that good or something like that. I'm like, Man. This, like; this nasty. You know this is not a fair game anymore. It's not a fair game anymore," Francis Ngannou said on his YouTube channel.
Francis Ngannou is currently 16-3 in his professional career and will fight Ciryl Gane in a title unification bout at the main event of UFC 270.
ADVERTISEMENT
Article continues below this ad
WATCH THIS STORY- Conor McGregor vs. Jake Paul: Who Earned the Most in 2021?
Francis Ngannou and Ciryl Gane will finally get to culminate their unlikely rivalry at UFC 270. Are you excited for their fight? Tell us in the comments below.