"I Wonder if It's a Head Trauma" – UFC Fans Disappointed as Tyron Woodley Announces Next Fight Venture
Published 01/31/2023, 11:15 AM EST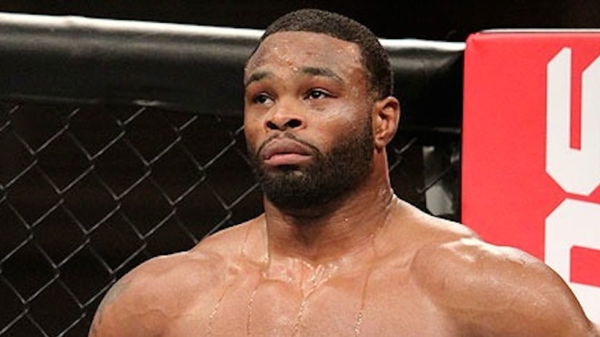 Former UFC fighter Tyron Woodley has hinted at a move toward kickboxing. The former welterweight champion has fought YouTuber Jake Paul twice after leaving Dana White's promotion. 'The Chosen One' recently appeared in an interview with combat sports journalist Ariel Helwani and talked about his step towards kickboxing.
Tyron Woodley will turn 41 years old a couple of months from now. He had previously retired from MMA but wants to make a comeback. "I think I'm gonna fight in a kickboxing fight," said the former UFC champion to Helwani. He added, "Every time I kick somebody, they hit the ground. Why don't I kick people more?"
ADVERTISEMENT
Article continues below this ad
Tyron Woodley's boxing venture didn't turn out too well. He claims to be a good kicking fighter and wishes to stick to what he's good at. Woodley said, "I kick hard, so why wouldn't I think about that?" 
'The Chosen One' also mentioned that he wants to engage in mixed martial arts in 2023. "I think that's gonna gradually build me back up. I wanna wrap up the year with MMA," said Woodley. He has not competed in a fight since his loss to Jake Paul in December 2021. However, MMA fans don't seem excited about Woodley's MMA return.
MMA Fans unsure about Tyron Woodley returning to MMA – mentions Joe Rogan comparing him to Georges St-Pierre
MMA fans on social media have ripped into the former UFC welterweight champion's new venture. They have shared their thoughts on Woodley's kickboxing announcement and do not have many nice things to say about it.
Here are some of the reactions from Reddit users:
Don't even see the money in it for him. Don't know who's clamoring for a 40 yr old Twood kickboxing fight. He got paid in boxing because it was Jake
I wonder if it's head trauma that makes Tyron so delusional.
Is Woodley bad with finances or something? I thought he made millions off Jake Paul already.
Yes, he has made multiple videos about how he kept spending and spending as a champion and lost all his money. He is also pretty generous. He gave the money back to Kelvin Gastelum after Gastlum missed weight. And he donated to Stefan Bonnar.
He said as much in the interview with Ariel. At his peak he was withdrawing the maximum amount he could from ATMs on a daily basis and frequently buying cars. It sounds like he's making up for his financial irresponsibility with these one-off fights.
Remember when this guy was comparing himself to gsp and it wasn't a wild allegation? This fall off has been unparalleled
I remember Joe Rogan calling him an arguable welterweight goat back in 2018.
ADVERTISEMENT
Article continues below this ad
Many MMA fans think that a 40-year-old Tyron Woodley fighting again doesn't excite them. They mentioned his poor financial decisions and investments over the years, which might have prompted him to come back and fight again. Moreover, they also mentioned his generous nature when he donated money to the late Stephan Bonnar's family. Fans also mentioned Woodley giving money to Kelvin Gastelum after the latter missed weight and was fined 30% of his fight earnings by the UFC.
Many fans have mentioned that Joe Rogan once compared Tyron Woodley to UFC's great Georges St-Pierre. Joe Rogan believes that Tyron Woodley and GSP are among the best hitters in MMA history. However, fan claim that "The Chosen One" has since had a dramatic downfall.
ADVERTISEMENT
Article continues below this ad
What are your thoughts? Drop your comments below.
WATCH THIS STORY: Joe Rogan: Thug Life Moments in UFC
Edited By: Vineet Nandwana