'If You're Loyal to Me, I'm Loyal to You' – Dana White Details How He Treats UFC Employees
Published 09/07/2021, 12:41 PM EDT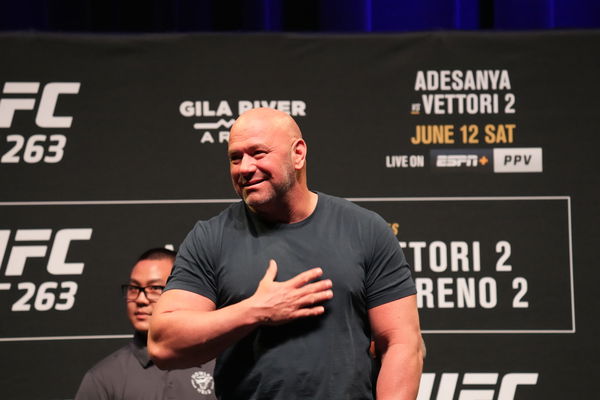 ---
---
Dana White is one of the main driving forces behind the UFC's success. While credit must be given to every individual who is a part of the company and especially the fighters. White is someone who people believe is the reason the UFC has achieved so much success.
ADVERTISEMENT
Article continues below this ad
During a recent interview with Tough Business, they asked White about the same and what he looks for in his employees. White said, "I'm super fuc*ing psychotically crazy about loyalty, ok. And if you're loyal to me, I'm loyal to you. At the end of the day, everybody wants to do what they love."
"Whether you work in this company and you are a part of the production team. You're part of PR, you're the marketing team, whatever. Everybody wants to do what they love, everybody wants to work and take care of their family."
ADVERTISEMENT
Article continues below this ad
"They want their career to go like this (points up). So if you look at the UFC over the last 20 years, we've been a fu*king rocket ship that just gone like this. We have fu*king crazy Christmas parties. We've had the red hot chili peppers play at our Christmas party, Kid Rock, Snoop, you get my point."
Watch This Story: Event Recap: Best Fights From UFC Vegas 36: Brunson vs. Till
"Every fu*king year I get up on that stage and I tell my team you're the absolute fu*king best in all the sports. Better than fu*king this that I fu*king love you guys and I'll do anything for you."
Dana White talks about how the company worked through the Covid-19 pandemic
The UFC was one of the few companies that not only sustained during the Covid times but managed to gain more popularity. However, the pandemic could have been hard for various employees of the company if White had not stood by them.
Talking about the same White said, "Now the first time the company has ever seen any real adversity is Covid. The standard procedure this thing goes down you lay down 35% of your staff. You fu*king all your executives pay in half and I got a real nice house."
ADVERTISEMENT
Article continues below this ad
"I got to hang out in my really house till this thing gets over and fu*k all you guys. That is not consistent with what I've told you for the last 20 years. If you look at all the hard work you've done for me over the past 20 years."
"The minute we face adversity, I'm gonna fuking fold and let you guys flap out in the fu*king wind. Good luck to you. No, that is not how I operate and that was not the way it was going to go down, so."
ADVERTISEMENT
Article continues below this ad
The UFC President clearly cares about his employees and believes that the employees have stood by him throughout the years. It was his duty to make sure they were taken care of during the pandemic.