'I'll Punch That Prettiness out Your Face' – Alexander Volkanovski and Brian Ortega Get Into a Heated Exchange During an Interview Ahead of UFC 266
Published 07/30/2021, 10:33 AM EDT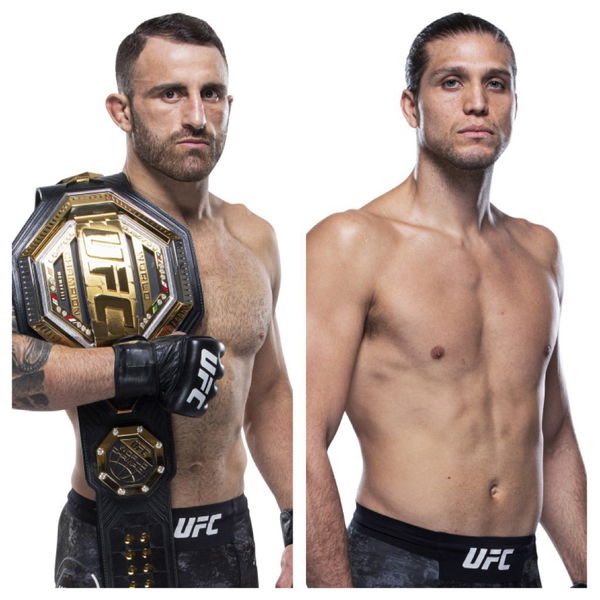 ---
---
Alexander Volkanovski and Brian Ortega are all set to face each other at the UFC 266 event. The two fighters are presently acting as coaches in The Ultimate Fighter (TUF) 29. This has certainly fueled the rivalry between these two featherweight fighters, as we can see from a recently released clip by ESPN.
ADVERTISEMENT
Article continues below this ad
Both fighters seemed to be taking constant shots at each other, with 'The Great' coming off as much more furious. He said, "You thought you were the man, you thought you were the man when you were winning and now things aren't going well and you're trying to play it cool so I don't rub it in."
ADVERTISEMENT
Article continues below this ad
The adversity between the two seemed to be increasing with time, as was evident by this conversation. Even Ortega did not seem to back down and was constantly trying to get under Volkanovski's skin. He said, "Yo have no comebacks, hard to feed off someone who has weak energy."
To this Volkanovski replied, "Weak energy, you serious, you just stand there looking in the camera, just trying to look all pretty, we barely get a word out of you."
Ortega – "It's not my fault you ugly mate, Common dog relax." 
Volkanovski – "Good lucks will only get you so far mate once we get inside the Octagon, I'll punch that prettiness out your face, don't you worry about that. I don't need to look pretty. I am a fighter."
Alexander Volkanovski believes Brian Ortega likes to play the tough guy
Throughout the course of TUF 29, both Ortega and Volkanovski have been at each other's faces. Therefore, during their conversation, they reminded each other of the same.
Ortega – "In person, you don't give the same energy."
Volkanovski – "Mate, I called you a piece of sh*t to your face; you didn't do anything, what are you talking about?"
Ortega – "I told you to shut the fu*k up, bi**h, and you didn't do nothing about it."
The rivalry between Ortega and Volkanovski seems to be increasing with each passing day. Therefore, fans are eagerly waiting to see what happens when these two talented fighters meet inside the Octagon.
ADVERTISEMENT
Article continues below this ad
Watch This Story: Top 5 Fan Favorite Boxers of All Time: Muhammad Ali, Mike Tyson, Manny Pacquiao, and More
Who do you think will win the epic clash between Brian Ortega and Alexander Volkanovski at UFC 266? Let us know in the comments.
ADVERTISEMENT
Article continues below this ad