"Imagine Putting On a War for Your Own Country, Then…" – UFC World Fumes at Brazilians for 'Disgusting' Act Before Glover Teixeira's Retirement at UFC 283
Published 01/23/2023, 11:55 PM EST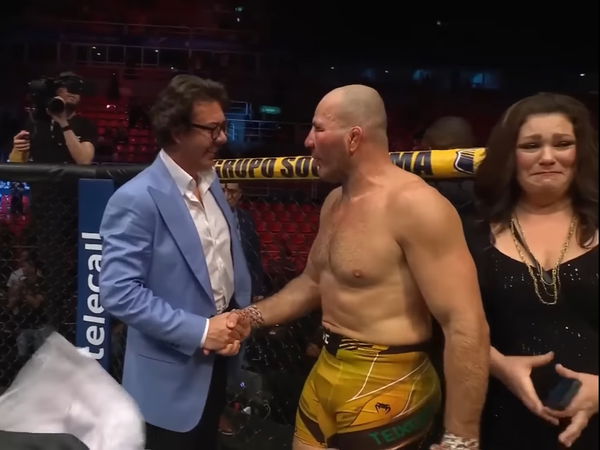 The main card fight of the UFC 283 served as an extremely special fight for a lot of reasons. Glover Teixeira, 43, even though he lost the bout, he put up an exemplary performance owing to his last outing in the UFC. Jamahal Hill took home the light heavyweight belt by standing tall against the Brazilian legend in this barn-burning 5-rounder. With each round of the fight indicating a 'this is it' moment, both the fighters persevered till the very end, taking severely damaging blows; especially Teixeira. Hill landed several devastating hits on the 43-year-old, but the latter stood his ground until the very last moment. And with that final fight, the curtains are now closed for the Brazilian's time as a mixed-martial artist after over two memorable decades. But sadly, his country's people weren't there for him in his final moments in the UFC. And the Brazilian crowd's despicable behavior toward their countryman has upset UFC supporters.
UFC supporters feel sorry for Glover Teixeira
After representing his nation in this dangerous sport for over 20 years and having the final showdown in the home country itself, there couldn't have been a better setting for Glover Teixeira to retire. But even though everything seemed pitch perfect, the audience didn't exhibit the same spirit. By the time the fight between the Brazilian and Jamahal Hill concluded, the arena got emptied, and Texeira had barely any supporting voices during his final words in the UFC.
ADVERTISEMENT
Article continues below this ad
This act angered the UFC fans when they saw the empty arena during Glover Teixeira's post-fight interview.
"Absolute worst crowd in years. And that includes no crowds during Covid."
"They really cleared tf out, I couldnt believe it. They had such an awesome card too."
"The behavior of the Brazilian fans was disgusting, they had 0 respect."
"I've said it before and I'll say it again. Brazilian sports fans are the most fickle, disrespectful, and despicable group of people in the world."
"Imagine putting on a war for your own country, then retiring, yet they have all walked out before the fight even finished. Please UFC, never return to Brazil…"
"Them throwing sh*t at moreno rubbed me the wrong way especially sense he was up on every round the doctors stoppage was completely valid"
"Man, Brazillian fighters DESERVE to fight in their country – Their country does NOT deserve to see them fight. What an absolute shame"
Having said that, as much as the fans yearned to see more of Glover Teixeira, the choice to retire has very personal roots. Moreover, a very valid one, too.
Teixeira bids adieu for his own good
ADVERTISEMENT
Article continues below this ad
By putting out great fights for such a long stretch, fans witnessed the last of Glover Teixeira on January 22. Although the arena didn't fill for as many people as it should've had, the ones present over there surely felt the emotions to the core as the 43-year-old uttered his final words before saying goodbye to the UFC. Upon doing so, he also stated that it wouldn't have been possible for him to continue any further, even if he wanted to.
Coming from his translator, Teixeira said, "In reality, though, I think I'm too tough for my own good, too tough for my own health, you know. I can't keep up anymore."
ADVERTISEMENT
Article continues below this ad
And with it, an era comes to an end. Glover Teixeira might not have had the ideal farewell, but those faithful to the UFC will always remember him for his greatness and for his zeal as a fighter.
Watch this story: MMA News Round-Up: Conor McGregor Reacts to Jose Aldo Hof Induction; Brandon Moreno Receives Horrible Treatment; Brazilian Legends Mauricio Shogun Rua & Glover Teixeira Hang Up Gloves at UFC 283