"In America You Cannot Fight in the Streets"-When Khabib Nurmagomedov Threatened to 'Eat' Tony Ferguson on the Streets
Published 12/10/2021, 1:04 AM EST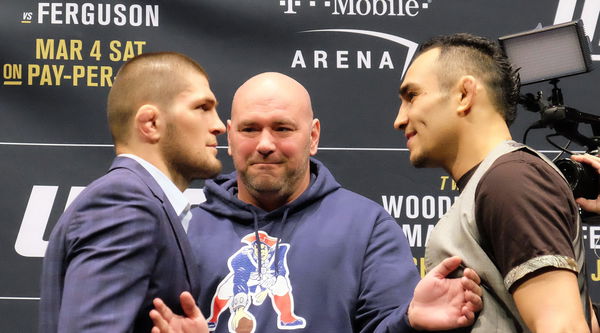 Khabib Nurmagomedov may have retired from the UFC as the undisputed Lightweight champion, but his fans haven't let go of his legacy yet. The fans still hope for a change of heart from "the Eagle" and wish for him to come out of his premature retirement.
ADVERTISEMENT
Article continues below this ad
Until then, they can enjoy his undefeated bouts and legendary (verbal) comebacks against equally worthy opponents. One such comeback is against the legendary Tony Ferguson.
This incident occurred during a press conference leading up to their fight at UFC 249. Tony Ferguson and Khabib Nurmagomedov were engaged in a verbal spat, when suddenly "El Cucuy" accused the "Eagle" of never taking part in a street fight.
ADVERTISEMENT
Article continues below this ad
The Russian from Dagestan was not having any of it. An aggressive Nurmagomedov called out Tony Ferguson and said, "Street fight I can eat you. Hey! Hey sunglasses. In street fight I can eat you. You understand? Who are you? You never fight in street. You American guy. In America you cannot fight in the streets. I am from real mountains. I can eat you in a street fight… They know where I'm from. I can eat you in a street fight."
Despite sitting calmly in the entire event, the Russian lashed out at Ferguson for his street fight jibe aimed at the former.
Khabib Nurmagomedov versus Tony Ferguson- The 'cursed' rivalry
Some years back, while Nurmagomedov's onslaught of the lightweight division was moving in full swing. A lot of experts and UFC officials believed "El Cucuy" to be the perfect foe for the Russian.
The UFC tried to schedule their match multiple times but couldn't bring it to reality. They planned their first bout at the finale of UFC's The Ultimate Fighter season 22 in December 2015. But the fight could not take place due to the Russian's knee injury.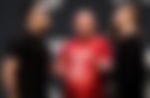 ADVERTISEMENT
Article continues below this ad
UFC again tried to book the fight for UFC 209 but were unable to do so. Officials tried their best to book the fight twice more, but all in vain, as the bouts got cancelled for one reason or the other.
Fans started to call this match-up "cursed" as it never came to fruition, despite all efforts.
The UFC tried their last hand when they set up both the fighters for UFC 249, but the Corona outbreak took the world by storm and "The Eagle" was unable to travel to America because of COVID-19 restrictions.
ADVERTISEMENT
Article continues below this ad
WATCH THIS STORY- Five Fascinating Facts About Sean OMalley
Were you excited about Nurmagomedov vs. Ferguson? Can UFC make it happen even now? Tell us in the comments below.