Is Colby Covington UFC's Most Hated Fighter?
Published 09/28/2021, 11:45 PM EDT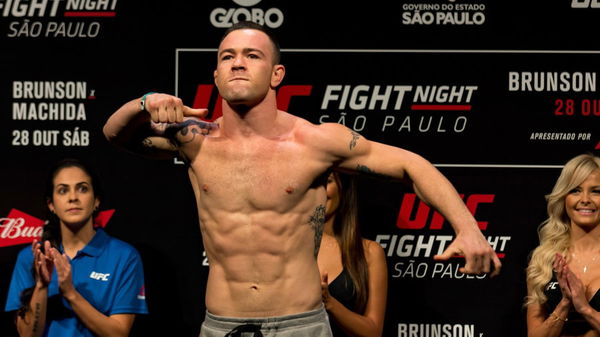 ---
---
Colby 'Chaos' Covington is one of the UFC's most renowned fighters right now. The former welterweight interim champion is constantly creating a stir. He is number one in the UFC welterweight rankings as of 2021. Besides being one of the most accomplished fighters in the UFC's welterweight division, 'Chaos' is also one of the most controversial names in the promotion.
ADVERTISEMENT
Article continues below this ad
After almost being removed from the UFC, Colby chose the trash-talking path to fame.
There have been many situations where Colby has offended a large population. A culmination of events caused MMA fans to despise him, and Colby seemed to thrive on it. Whether he's loved or hated, Covington is always capturing people's attention.
ADVERTISEMENT
Article continues below this ad
Here are a few instances which caused a lot of hate for Covington:
When he faced Demian Maia in Sao Paulo
Covington faced Brazilian sensation, Demian Maia, at UFC 119 in Sao Paulo, Brazil. It started with his victory over Maia in Brazil, where he called the country a "dump" and Brazilians "filthy animals."
This incident was only the start of his transition to a heel character. Also, this seemingly saved his UFC career.
Colby's comments on Kamaru Usman
Following Covington's win over Tyron Woodley, 'Chaos' appeared on an ESPN post-fight show. In his capacity as an ESPN analyst, Usman inquired about the congratulatory phone call that Covington received from Donald Trump.
Covington said, "Who did you get a call from? You get a call from, frickin', your little tribe? They give you some smoke signals for you? You're a joke… You're fake news."
Colby Covington's remarks on Dustin Poirier's wife
Ahead of UFC 264, Colby Covington, while posting his video for the UFC PPV main event, took a dig at Dustin Poirier and his wife
ADVERTISEMENT
Article continues below this ad
Watch This Story
"The only thing that Dustin needs to be worried about is where his wife Jolie has been sliding. I heard that it really hurt Dustin's feelings that his wife Jolie was sliding into Conor's DM's. But let's not let him think about where she's sliding right now because she slid in my drawers," said Covington, regarding Dustin Poirier's wife Jolie.
ADVERTISEMENT
Article continues below this ad
These are just a few examples of how Covington has sparked a lot of hate for himself. Given his tone in his statements, it's safe to say that he may just be the UFC's most polarizing fighter, with some viewing him as the most hated one.
WATCH THIS STORY: Five Potential Opponents for Nick Diaz After His Loss Against Robbie Lawler at UFC 266.