Is Dave Bautista's Character in Daniel Craig & Serena Williams Starrer 'Glass Onion: A Knives Out Mystery' Inspired by Joe Rogan & Andrew Tate?
Published 12/27/2022, 10:15 AM EST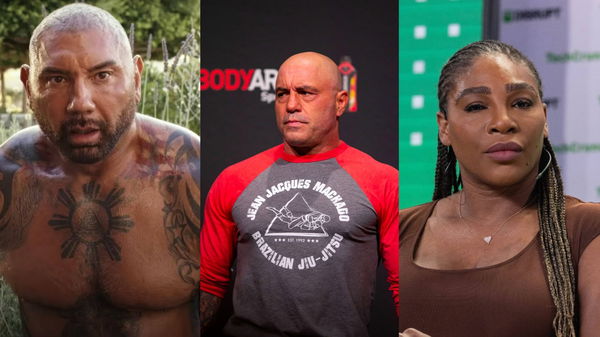 If you watched Glass Onion, and one of the characters reminded you of Joe Rogan, you're not alone. The UFC commentator has a seat in the upper echelons of popularity, thanks to his work with The Joe Rogan Experience. The 55-year-old podcast host is also one of the most controversial celebrities of modern times. His influence and rise in popularity in recent years have been so gigantic that they may have inspired a leading character in Netflix's latest hit release, Glass Onion. The film also featured tennis icon Serena Williams, who had a brief cameo, amongst other celebrities.
The second in the series of Benoit Blanc murder mysteries, Glass Onion also did its fair share of social commentary. The film took a satirical approach to modern-day events and personalities, and one of them may have a passing resemblance to MMA's own Rogan.
ADVERTISEMENT
Article continues below this ad
Is Glass Onion's Duke Cody a satirical take on Joe Rogan?
According to a recent article from Screenrant, Duke Cody, played by Dave Bautista in the movie, could be an allusion to Joe Rogan. The articles point out many similarities between the character and the real-life personality.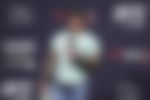 Cody's very appearance draws parallels with Rogan. A tattooed hunk who is evidently a fitness freak. Rogan shares similar tastes, although he is not as physically big a figure as Bautista. The BJJ black belt is an ardent martial arts practitioner and fitness enthusiast.
Further, Cody is a controversial figure who happens to be a men's rights activist and a Twitch streamer. This links to Rogan's podcast and his takes on masculinity and men's rights.
The story of the film unfolds during the pandemic. Cody becoming controversial during that time could be parallel to Rogan's rise in notoriety during the pandemic.
Cody's character with his hyper-masculine inclinations also drew comparisons with personalities like Andrew Tate.
A closer look at Duke Cody's character arc [spoilers ahead]
When we see Duke Cody for the first time, he is an internet figure who exemplifies toxic masculinity and objectifies the female body. However, we learn shortly that he lives with his mom and what he pretends to be is a far cry from his actual personality. His portrayal is that of a man-child who has to put up a front of aggressive masculinity to hide his many failures.
ADVERTISEMENT
Article continues below this ad
Originally a friend of Andi's (Janelle Monae), Cody switched sides and joined Miles Bron (Edward Norton) and betrayed her. However, he grew increasingly dependent on Bron. To regain his lost popularity and curry favor with the tech billionaire, he even forced his opportunistic girlfriend to sleep with him.
Watch This Story– Joe Rogan mocks Donald Trump for NFTs
ADVERTISEMENT
Article continues below this ad
When Cody learns of Bron's role in Andi's death, he uses it to blackmail him. Unfortunately, it backfires as Bron eliminates the threat quickly.
Did you watch Glass Onion? Did you find any similarities between Duke Cody and Joe Rogan? Let us know in the comments below.