'It Was Such a Dark Time' – Paige VanZant Explains the Origins of Her Naked Pictures on Instagram
Published 01/08/2021, 1:23 PM EST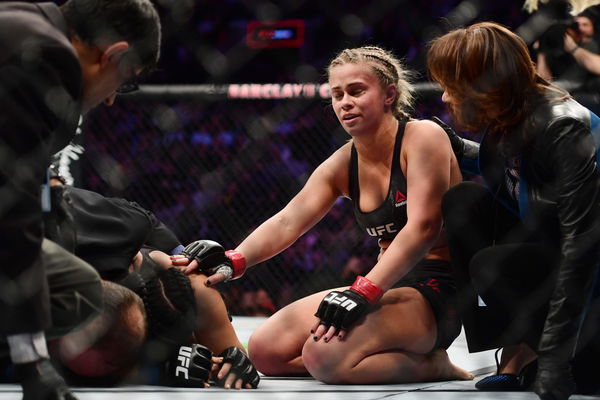 ---
---
Paige VanZant attracted a lot of attention last year when she posted a series of naked pictures on Instagram along with her husband. The former UFC fighter, ahead of her bare-knuckle boxing debut next month, explained what led to those images. She accredited the decision to the gloomy times amidst the pandemic.
ADVERTISEMENT
Article continues below this ad
VanZant's husband, Austin Vanderford, is a fighter in the welterweight division of Bellator. With both being athletes, it is not uncommon for them to work out in their home or in the garage. During one such workout, Vanderford didn't have any clothes on. Seeing her husband in that state sparked an idea in VanZant's brain, which ended up with her being the subject of several headlines.
ADVERTISEMENT
Article continues below this ad
"As husbands and wives do, we're just naked and walking around our house, doing our thing. He decided, being an athlete he's crazy, he's like 'I'm going to do pull-ups,' and I go out to the garage and he's doing pull-ups bare naked, and I'm like 'I have an idea!'"
"So I go get our tripod out, and we staged that photo. Then it just kind of became a thing, and I was like let's just do it. It took a lot of convincing on my part to him to keep doing those photos," VanZant told Morning Kombat.
Paige VanZant will make her BKFC debut against Britain Hart on February 5th
VanZant only had one professional fight in the year 2020. She ended up losing against Amanda Ribas in what was her last fight with the UFC. One can say that 2020 for VanZant, just like for millions around the globe, wasn't the best year. Owing to the coronavirus pandemic, she was forced to stay inside her home. However, that only led to her creativity shine on Instagram.
ADVERTISEMENT
Article continues below this ad
"It was supposed to be fun. It was such a dark time, the beginning of this coronavirus pandemic. (We were) trying to have fun. We're married and like to be naked, I guess," VanZant about her photos with her husband.
With 2020 behind her, VanZant will hope to have a better year ahead, on both professional and personal fronts. She made a bold move when she signed with BKFC, despite being in her prime. In an attempt to prove that she is more than just a pretty face, VanZant also showed the world that she could bank on her own popularity and not necessarily depend on an organization.
ADVERTISEMENT
Article continues below this ad