'It's Always Been GSP'- Khabib Nurmagomedov's Coach Talks About a Comeback Fight Against GSP
Published 03/19/2021, 3:36 PM EDT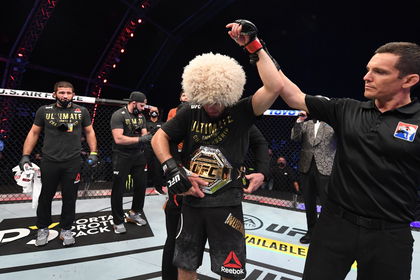 ---
---
UFC Lightweight champion Khabib Nurmagomedov has been in the news quite a lot recently. He announced his retirement after beating Justin Gaethje to defend his lightweight belt for the third time and extended his record to 29-0.
ADVERTISEMENT
Article continues below this ad
He was extremely emotional after the fight as he had gone through a really tough training camp. The Russian had also just lost his father, who was his coach during his preparation for the fight.
He was distraught and said that he would never return to the ring as he had given his word to his mother.
ADVERTISEMENT
Article continues below this ad
His coach, Javier Mendez, talked to Mike Swick about the prospects of a comeback fight for Khabib. It has been a source of constant speculation, and Mendez confirmed the popular opinion that Khabib would come back to fight former welterweight legend Georges St-Pierre.
"Last week, I got a knocking on the door. I was pissed that they were knocking very hard. I go out there and answer the door, and it's USADA," Mendez said. He said that USADA was actively trying to look for Khabib, and he contacted Ali Abdelaziz, Khabib's manager.
Khabib Nurmagomedov's active participation in the USADA pool and a possible comeback fight against GSP
"I told Ali, the manager, 'Hey USADA came looking for Khabib,' and he goes, 'Oh, he's right here come over to the Apex'," Mendez added. It added fuel to the fire that Khabib could be on his way back to the octagon.
"Fact: He did do USADA. Now, can Michael Chandler get Khabib out of retirement? No. Can someone like Conor McGregor, with great performance? Possibly.
"For me, it's always been GSP," he said. Khabib had always said that he would only come back when his mother would permit him to do so.
Khabib vs Georges St-Pierre has always been a fight that has been touted as one of the greatest lightweight bouts of all time. Both of them are accomplished wrestlers and have great records in their respective divisions.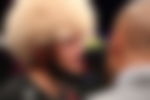 Mendez expanded on this and talked about Khabib Nurmagomedov's condition back home. "He would have to get his mother's permission before any of that happen. Let's say they do get GSP, and he don't want the fight. He won't fight till mom gives him the okay," he said.
ADVERTISEMENT
Article continues below this ad
"If he says, 'Hey coach, let's go, alright, let's go.' That's it. As long as he doesn't ask me, I don't have an opinion on it," he concluded. Just like that, we are back to square one on the topic of The Eagle's comeback.
Do you think we'll ever get to see Khabib vs GSP?
ADVERTISEMENT
Article continues below this ad