'It's F****** Embarrassing' – Ben Askren Says He Deserves the Trolling
Published 04/18/2021, 11:36 AM EDT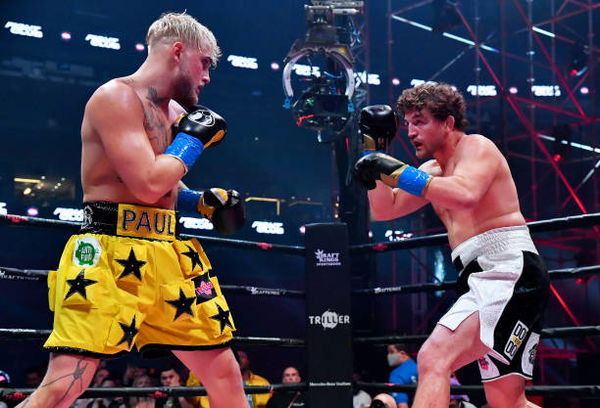 ---
---
The world of combat sports went through a whirlwind of emotions on Saturday, April 17. Controversial YouTube personality Jake Paul was fighting MMA legend and former Olympian Ben Askren in a boxing match. It was Paul's third professional match, and this was the big one.
ADVERTISEMENT
Article continues below this ad
A very long event which lasted for over four hours, preceded the main event. However, the main event was pretty exciting. Askren started off looking good in the fight, but he started getting hit after the first minute due to a lack of movement.
Finally, almost on the stroke of two minutes, Paul got the win by knocking out Askren. The former Bellator FC welterweight champion did get back on his feet after the knockdown, but the referee wasn't convinced and the fight was stopped.
ADVERTISEMENT
Article continues below this ad
Askren was really disappointed in his post fight interview and also uploaded a tweet saying "Sorry world." He talked to Triller in his post-fight interview and the reporter asked him about the undeserved ridicule that was coming his way after the fight. However, Askren disagreed about that and said, "Probably deserve it."
The reporter asked him why he felt like that, and Askren explained that it was embarrassing. "Because I got knocked out by Jake Paul, it's f*cking embarrassing," he said.
However, the entire MMA community was with Askren, and he didn't let anybody down. He has never been a boxer or a striker, and when he did what he was good at, he was one of the best in the world.
Colby Covington believes Ben Askren vs. Jake Paul was a set-up
Several people, fans and fighters alike, commented on the ridiculousness of the fight. Chief among them was Colby Covington. He believed that the fight was a set-up and in a tweet uploaded on Twitter; he expressed that in as many words.
ADVERTISEMENT
Article continues below this ad
There were a lot of opinions about the fight doing the round, but at some point people have to give Jake Paul some credit. It will be interesting to see if he will actually take on the challenge of fighting an actual boxer or an MMA fighter who can box as well.
Do you think Ben Askren deserves any hate for losing the fight?
ADVERTISEMENT
Article continues below this ad