"It's Sanctioned Cheating"- Joe Rogan and Marlon Vera Believe Weight-Cutting in Combat Sport Is an Act of Cheating
Published 12/18/2021, 7:19 AM EST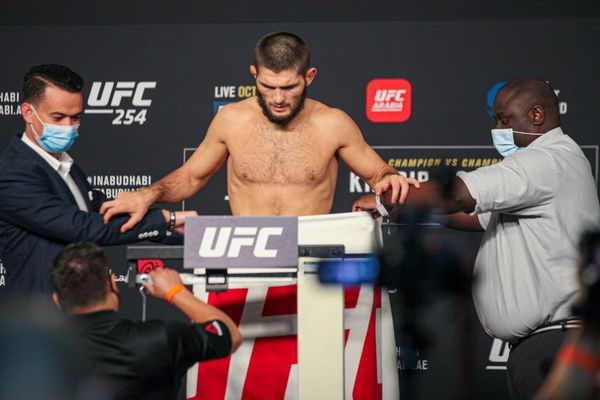 ---
---
The perils of weight-cutting have been the talk of the town in MMA for many years. Most think of it as a deplorable practice, whereas others consider it a totally substandard procedure that is worth banning. Interestingly, Joe Rogan and Marlon Vera come from the second camp.
ADVERTISEMENT
Article continues below this ad
Weight-cutting in combat sports refers to the method of fighters starving themselves before the weigh-in ceremony to make weight for a fight. For example, a fighter who has a normal everyday weight of 190 pounds will follow the aforementioned routine to make weight in a 170-pound welterweight class fight. However, they regain a sizable amount of their weight before coming into the fight.
ADVERTISEMENT
Article continues below this ad
That is what some MMA followers account as cheating.
In the latest episode of The Joe Rogan Experience, Rogan and Vera discussed weight cuts. Rogan asked Vera if fighters regain 100 percent of their weight cut on fight day?
Vera answered in the negative and told Rogan, "I think it is hard to fill 100 percent in 24 hours… it's just like you mentally tell yourself 'Hey, I am ready to die.' " 
Rogan then asks if MMA organizations can change following ONE Championship's example, Vera tells him he has knowledge of what they do through an acquaintance, "they are still f***ing around with weight cuts, he explained to me in a way that, they test you two times. It's tricky. They take a little bit away. But people, men will always find a way to get bigger and cheat a little bit."
Ultimately, the duo labeled this method as cheating. 'Chito' said, "Weight cutting is cheating to me."
"Yeah, I think it's sanctioned cheating," Rogan affirmed.
"It's like, if I weighed 155 in my daily basis, I fight anybody that natural weight between 150 and 160, easily. Because, when I am sparring, I am sparring guys that weigh 170, natural. But, I am healthy too. I am on my natural weight, that's fine," Vera continued.
Joe Rogan thinks weight cutting is cheating at 'higher scale' than PEDs
In a previous episode of his podcast, Joe Rogan mentioned that extreme weight cutting is even worse than Performance-enhancing drugs. He said that extreme weight cutting provides a better advantage that no performance-enhancing drugs can ever provide.
"It is stupid," Rogan said. "What it is, it's sanctioned cheating. It's sanctioned cheating, and it's cheating at a much higher scale even than PEDs. If you get two people and they both weigh 135 [pounds] but they're both totally hydrated and one of them has been doing steroids and one of them hasn't been doing steroids, the difference will be far less than if one person weighs in at 135 [pounds] but then balloons up to 160 [pounds] and then gets into that octagon at 160 [pounds] but there's no PEDs involved."
ADVERTISEMENT
Article continues below this ad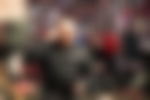 "That's a much greater advantage than someone who's doing some sort of testosterone thing or something. They're compromised, but the benefit of being so much larger might outweigh being compromised."
The UFC commentator stated that every promotion should adopt the new weigh-in program that ONE Championship has introduced. In 2016, ONE Championship announced new weigh-in rules as one of their fighters,Yang Jian Bing, died while preparing to fight in a flyweight bout at ONE Championship 35.
ADVERTISEMENT
Article continues below this ad
WATCH THIS STORY- Best Highlights From Jake Paul vs. Tyron Woodley 2 Press Conference: $500,000 Belt, No Knockout Clause Controversy, and More
Do you agree with Rogan's opinion? Do you think weight-cutting is malpractice? Tell us in the comments below.
Enjoyed reading this article? Download our exclusive app to get 24x7 coverage, latest memes and social media banter. Click here to download.