Joe Rogan Anoints Khabib Nurmagomedov the UFC "GOAT" & Khamzat Chimaev a "Hard F**king" Russian on Recent Spotify Episode
Published 04/03/2022, 12:57 PM EDT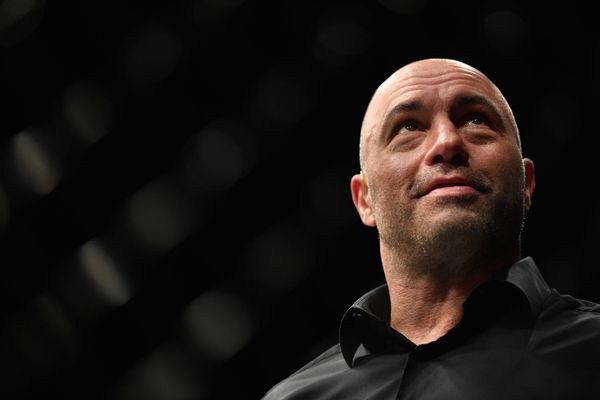 Joe Rogan is a legendary UFC commentator and hosts his famous podcast, 'The Joe Rogan Experience" on Spotify. He discusses various topics on his podcast with his guest and regularly brings in UFC fighters in the discussion. He recently shocked the world with his comments on Khabib Nurmagomedov.
ADVERTISEMENT
Article continues below this ad
During an episode of his podcast with comedian Yannis Pappas, Rogan was discussing Russia and its natives. He was all praises for the brute strength and determination of the Russians in combat.
ADVERTISEMENT
Article continues below this ad
He said, "Russians are hard f***ing people. They are hard human beings." To back his statement up, Rogan used the Russians in UFC as an example. He mentioned Dagestan and Chechnya as some regions that have the top fighters in the UFC.
"There's so many guys from Dagestan, that are crushing people. There's guys from that whole area," he stated. He called Khamzat Chimaev one of the top fighters in the industry and said, "Chechnya has a lot of f***ing.. one of the top guys right now is from Chechnya, this guy Khamzat Chimaev."
However, he couldn't have gone mentioning Russian fighters without naming the invincible 'Eagle' Khabib Nurmagomedov. In fact, he went on to call Nurmagomedov the GOAT in the business.
He concluded by saying, "There's obviously Khabib, Khabib Nurmagomedov, who's the G.O.A.T, he's from Dagestan."
His impeccable 29-0 record speaks for itself, but to get recognition from the most iconic UFC commentator is another achievement altogether.
Khabib Nurmagomedov retired from UFC as one of the all-time greats back in 2020. UFC recently inducted him into the UFC Hall of Fame – Modern Wing.
During his reign as the lightweight champion, Khabib defeated the best fighters in the stacked division to retire with an unblemished professional record. He defeated the likes of Conor McGregor, Charles Oliveira, and Justin Gaethje among others to live up to his hype.
Khabib Nurmagomedov trolls Joe Rogan
UFC 272 was a night of mixed emotions for Khabib Nurmagomedov. One of his disciples, Tagir Ulanbekov, lost his flyweight bout against Tim Elliott. However, things got better for him when Umar Nurmagomedov finished Brian Kelleher in the first round itself via submission. 
Although, he was a little upset with Joe Rogan after Umar's win. The iconic UFC commentator mispronounced the commonly shared surname between Umar and Khabib. The hilarious clip went viral on the internet, and Khabib Nurmagomedov also shared it with a pinch of friendly banter.
 

View this post on Instagram

 
ADVERTISEMENT
Article continues below this ad
He captioned his Instagram post, "@joerogan, you should have remembered this name 😄 @umar_nurmagomedov is a problem 👊"
He also announced with his post that his cousin, Umar Nurmagomedov, is a problem for the featherweight category of the UFC. 
ADVERTISEMENT
Article continues below this ad
WATCH THIS STORY: Demi Lovato, Elon Musk, Miley Cyrus, and other A-List celebrities who appeared on the Joe Rogan Experience
What do you think about Joe Rogan's comments on Khabib Nurmagomedov? Let us know in the comments down below.