Joe Rogan Bashes Spiderman Creators for Replacing Tobey Maguire With Tom Holland in Save $20 Million
Published 05/20/2022, 12:45 PM EDT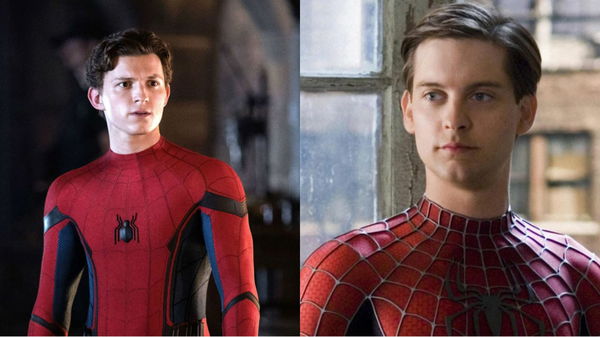 Joe Rogan, the UFC color commentator and famous podcast host, recently criticized the makers of Spiderman for replacing Tobey Maguire with Tom Holland and repeating the same story.
The 54-year-old Rogan has mostly criticized the way Hollywood functions. Recently, he did the same while talking about the famous superhero and commercially successful movie franchise named Spiderman.
ADVERTISEMENT
Article continues below this ad
The JRE podcast host recently had comedians, Bert Kreischer and Tony Hinchcliffe, as his guest on the famous podcast show. During the episode, the trio discussed stuff surrounding Marvel movies.
And this is how Joe Rogan stumbled upon the Spiderman topic. At first, he criticized the franchise for changing its lead actors. Further on, he also condemned the repeated story the movie shows with new actors.
Rogan said, "If I was some gangster Hollywood executive type guy. And I was like listen as long as we can pay this Peter Parker 20 million bucks a film. We can pay this guy 100,000 and make him a star."
"And at the end of that, we go, hey we got this new guy named Tom Holland. And we really think he is gonna be good at the role, and we gonna just start the f**king movie from the beginning," Rogan added. 
WATCH THIS STORY: 5 Potential Opponents For Michael Chandler After A Devastating Knockout Win Over Tony Ferguson
"They tell the whole story again, just slightly different. He gets bit by a spider becomes spiderman. How many f**king times are they gonna tell us the same story that we have seen over and over again? When they have done it already three of four times with different Peter Parkers," Rogan concluded.
These views from him also triggered a question from his fans if Rogan has friends from Hollywood?
Joe Rogan has only one Hollywood friend in his inner circle
The UFC commentator Joe Rogan is one famous name in the Hollywood industry. Chiefly, because of his widely heard podcast show The Joe Rogan Experience. And also because of his excellence in the fight industry.
ADVERTISEMENT
Article continues below this ad
However, Rogan doesn't have many friends in the Hollywood industry. As doesn't enjoy being a part of the Hollywood community. But he still believes there are a few good people in the industry who he has made a part of his inner circle.
During a recent episode of his podcast, Rogan revealed that the Marvel star Chris Pratt is a part of his inner circle. The JRE host has met Pratt and several occasions and the latter has been good to Rogan. Hence, he made him a part of his inner circle.
ADVERTISEMENT
Article continues below this ad
ALSO READ: From Brock Lesnar to Sylvester Stallone: Expected Upcoming Guests on The Joe Rogan Experience Podcast on Spotify
What are your thoughts on Rogan, including Pratt in his circle? What do you guys think about Rogan's words about Spiderman makers? Let us know in the comments below.
Edited By: Vibhanshu Kumar