Joe Rogan Believes Conor McGregor Would Be an Underdog in a Fight With Michael Chandler
Published 02/01/2021, 2:21 PM EST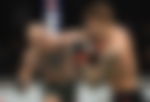 ---
---
With three losses in his last six fights, Conor McGregor is slowly losing the mystique that engulfed him when he became a UFC star. After losing to Dustin Poirier at UFC 257, McGregor expressed a desire of making a quick turnaround. One of the possible opponents for his next fight could be Michael Chandler. In a potential fight between the two, UFC commentator Joe Rogan thinks Chandler would be the favorite.
ADVERTISEMENT
Article continues below this ad
Talking to Brendan Schaub on the latest episode of the JRE, Rogan donned the hat of a matchmaker. The UFC 155-pounds division is a shark tank with several strong contenders gunning for a title shot. Amidst all this, McGregor's loss to Poirier brings a hit to the Irishman's drawing power. Therefore, the UFC might need to proceed a bit cautiously if it wants to preserve McGregor's ability to bring in the numbers.
ADVERTISEMENT
Article continues below this ad
"The purist option is Charles Oliveira," Rogan said, talking about Dustin Poirier's next fight. "If you're a purist, you want that fight. If you want to make a shitload of money before Conor fights someone else, you have the (Poirier) rematch."
Here's the thing, if Conor fights Michael Chandler next, which is a possibility if Dustin fights Charles Oliveira and Conor fights Michael Chandler, what are the odds that Conor beats Michael Chandler? I think Michael Chandler is a favorite in that fight, which is very dangerous for your money."
Chandler made his UFC debut on the co-main event of UFC 257. He knocked out Dan Hooker to announce his arrival in the UFC.
Is Conor McGregor vs Nate Diaz III the fight to make?
The UFC's biggest cash-cow is in a tough spot right now. Despite all his accolades at 145-pounds and one or two-off fights at welterweight, it's hard to ignore that McGregor is 1-2 at lightweight. Therefore, keeping McGregor out of title contention currently wouldn't be a bad decision.
ADVERTISEMENT
Article continues below this ad
Therefore, the one fight that has been a long time coming and could be a PPV draw as well would be the trilogy between Diaz and McGregor. The two are one apiece in their couple of outings. Both the fights between the two features in the list of highest-selling UFC PPV's of all time.
Last month, Dana White, prior to UFC 257, said that the UFC is working on a fight for Nate Diaz at lightweight. Diaz last fought in the UFC in 2019 when he lost to Jorge Masvidal. For his return, it would be hard to find a bigger name than Conor McGregor.
Who do you think should Conor McGregor fight in his next fight? Let us know in the comments section.
ADVERTISEMENT
Article continues below this ad