Joe Rogan Details His Agreement With Khabib Nurmagomedov on the "Curse" of MMA: "Start Dragging Them Into Hell"
Published 12/07/2022, 2:48 AM EST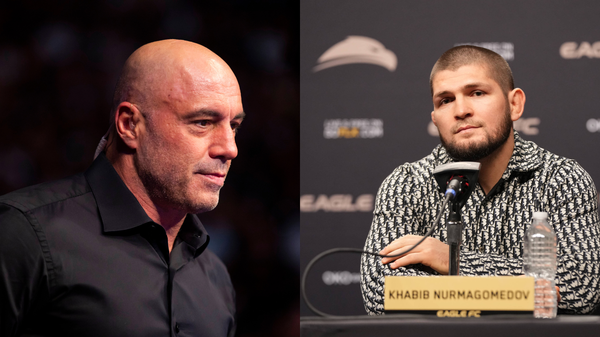 The Joe Rogan Experience recently topped the Spotify rankings for top podcasts of 2022. Rogan achieving this feat for the second consecutive year points to the quality of content that he puts out. Rogan's martial arts background and his experience as a UFC commentator allow him to discuss topics relevant to fight fans along with other contemporary issues. Recently, the BJJ black belt talked about the drawbacks of elite-level talent in combat sports. He also cited how the retired UFC phenom Khabib Nurmagomedov shared the same idea.
In episode #1906 of the JRE, Rogan hosted retired Navy SEAL, public speaker, and author David Goggins. Since Goggins was a motivational speaker himself, Rogan discussed the problem with the mentality of elite-level talents at length with him.
ADVERTISEMENT
Article continues below this ad
Joe Rogan on why talent is a curse
Rogan talked to Goggins about how talented people don't work as hard. He said this is the reason why talent is a 'curse' in MMA. The former 'Fear Factor' host mentioned how Khabib Nurmagomedov shares the same idea.
"Khabib Nurmagomedov talks about that. And he's one of the greatest mixed martial arts fighters of all time. One of the rare guys to retire undefeated. But he's like, 'talented guys don't work hard enough.'"
Rogan further explained why talented fighters don't try as hard. He said their talent allows them to win fights early and gives them other advantageous attributes like speed and coordination. He added how people are not equal in their abilities when it came to sports.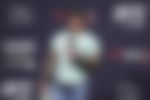 He added, "Some people are just very gifted. But gifted fighters, in particular, there's just something about it where a lot of them never realize their full potential. Because they don't develop that mental game that you're talking about."
The 55-year-old mentioned how talented fighters finish fights easily in the first round but struggle when a tougher opponent comes around. "You look like a hero, but then someone comes along that can survive that first round and start dragging them into hell."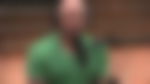 While Rogan admires Nurmagomedov and shares his opinion, he is yet to host the Dagestani fighter on his podcast. 'The Eagle' himself once revealed why he is yet to appear on Rogan's show.
Why hasn't Khabib Nurmagomedov appeared on the JRE?
Khabib Nurmagomedov is one of the greatest fighters in UFC history. He is also one of the most brilliant minds in MMA. Joe Rogan has commended Nurmagomedov's skills on many occasions. However, the two are yet to sit down for a chat on Rogan's popular podcast.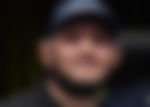 The former lightweight champion once revealed that Rogan had indeed asked him to come on the show a few times. But 'The Eagle' wanted to make sure of certain things before sitting down and opening up with Rogan.
ADVERTISEMENT
Article continues below this ad
"I really want to go there, but before I go there I want to be ready, you know? I want to improve my English a little bit more to explain [to] people what I have in my mind, you know? Like, in the Russian language I can say everything- what I feel, what I want to say- but in English, I have [a] little bit barrier."
It appears the only thing stopping 'The Eagle' from a JRE session is the language barrier. Rogan has hosted fighters with language barriers before, like Yoel Romero. However, 'The Eagle' wishes to speak his mind clearly.
ADVERTISEMENT
Article continues below this ad
Watch This Story– Joe Rogan reveals the real reason for Conor McGregor's demise
When do you think we will finally see Nurmagomedov on JRE? And what do you make of Rogan's opinion about talent being a curse? Give us your thoughts in the comments below.