Joe Rogan Excited About the Possible Existence of Bigfoot
Published 12/02/2020, 5:30 AM EST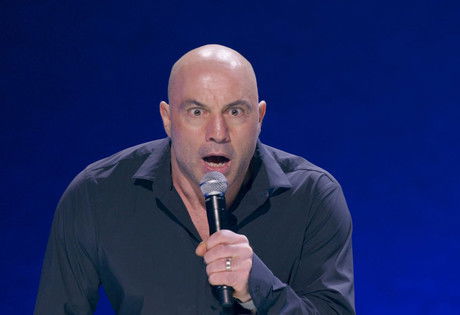 ---
---
Joe Rogan is a unique character with a fascination for unique things. He is always open to express his likings and talk about them. The UFC commentator has never been one to hide his appreciation for strange animals like Bigfoot- a mysterious animal with no scientific or real proof of its existence. But Rogan, being the character he is, has always been curious to know if that's real. He seems legitimately happy to find about such things.
ADVERTISEMENT
Article continues below this ad
In his recent Instagram post, Joe Rogan posted a cryptic photo of a Bigfoot standing with a man in what seems like a jungle. He wrote, "If Bigfoot turned out to be real I think I would be a legit 5% happier for the rest of my life."
ADVERTISEMENT
Article continues below this ad
Where Rogan got this photo from is not clear. There have been some comments supporting Rogan's theory and saying Bigfoot is actually real. Furthermore, some comments suggested that Bigfoot and the man look like a happy couple.
Joe Rogan is one of a kind in his own merit
Joe Rogan has a mind like no one else. He has an immense love for getting high and discussing various topics. Also, his range of knowledge is beyond a normal person's understanding. Hence, Rogan is a wise man in his own right.
ADVERTISEMENT
Article continues below this ad
He has always been vocal about his love for chimpanzees, bigfoots, and plenty of other animals of the same category. He seems to have a deep connection with them as he never fails to bring those topics into a normal conversation. In his podcast, The Joe Rogan Experience, he these creatures feature as part of the conversation more often than not.
But, there has been nothing yet to prove that Bigfoot is indeed real. That hasn't stopped the UFC commentator from speculating about their existence. Per many fans, he will be the happiest person on the planet, it seems if their existence is ever proved. Perhaps fans could see him mimic one of his UFC KO reactions upon hearing this news.
ADVERTISEMENT
Article continues below this ad
Is Bigfoot real? Should Joe Rogan be happy? What do you think? Let us know in the comments.