Joe Rogan Gives a Blueprint of What the Future Is Going to Look Like – "There's Like 98 Different Genders and Everybody Could Do Whatever the F**k You Want"
Published 05/14/2022, 4:40 AM EDT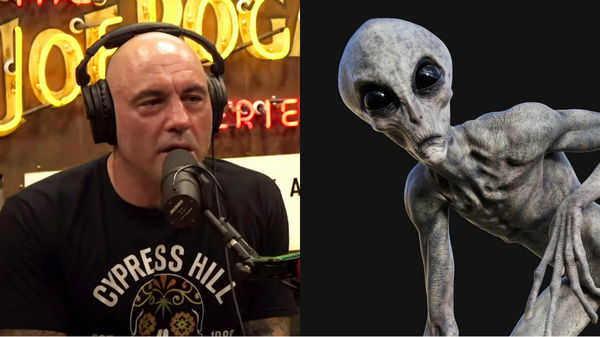 The Joe Rogan Experience podcast is one place where the UFC color commentator, Joe Rogan, talks openly about any topic in the world. And while doing the same, the 54-year-old gave a blueprint of what our future will look like.
In episode #1815 of the JRE podcast, Rogan hosted The Black Keys' band members, Dan Auerbach and Patrick Carney. During the podcast, the three discussed a lot about music and ongoing scenarios in the world.
ADVERTISEMENT
Article continues below this ad
At a moment in the podcast, Patrick talked about a weird show that the famous American rapper Kanye West did in the past. And somehow Rogan stumbled upon discussing the future of the humans.
He said, "I think the future is going to be genderless. I think what we are seeing now with all these bizarre classifications of things and pronouns. And all this craziness with people. I think we are on our way to become aliens. This is one of those things."
"What that thing is in our heads, the archetype of the big head, little tiny body… And we gonna go that way because of the f**king an implant or some sort of technological advance. But along the way, our bodies gonna get accustomed to this idea of the male and female dynamic." Rogan added. 
WATCH THIS STORY: 5 Potential Opponents For Michael Chandler After A Devastating Knockout Win Over Tony Ferguson
"It's like doesn't count anymore. There's like 98 different genders and everybody could do whatever the f**k you want at any given time. And it will slowly make it easier for us to accept becoming aliens." Rogan concluded.
Joe Rogan once spent an insane amount of money on a video game
Before becoming a famous commentator for one of the biggest MMA promotions in the world, Rogan tried his luck on a few different career paths. He wanted to pursue a career in professional fighting.
However, Rogan couldn't because of the injuries. Hence, he choose to go the other way and became a stand-up comedian. At the early stage of his career, Rogan was earning enough doing gigs.
In the 1990s, Joe Rogan paid $10,000 a month to have a T1 fiber optic internet connection installed in his house so he could play Quake without a lag

— UberFacts (@UberFacts) May 10, 2022
ADVERTISEMENT
Article continues below this ad
However, Rogan was spending an insane amount of his money on a video game. According to UberFacts in the 1990s, Rogan spent a whopping $10,000 on a video game to run smoothly.
Although it might be a huge amount for many, it is just a small portion of what the UFC commentator and podcast host is earning now.
ADVERTISEMENT
Article continues below this ad
What are your thoughts on Rogan's spending on a game? What do you think of his future blueprint? Let us know in the comments below.