Joe Rogan is Shocked to Learn Gina Carano Lost 95% of Her Hearing from Infamous Disney Firing Episode
Published 06/29/2022, 10:30 AM EDT

Follow Us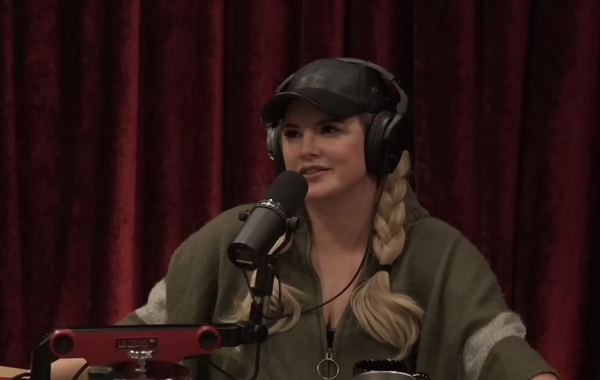 Gina Carano was once dubbed as the face of women's mixed martial arts. Carano was one of the first females to set the stage for women's fighting and made waves in Strikeforce and EliteXC. After her career in professional fighting, Carano went on to become a big-time Hollywood star.
She featured in many hit movies like Fast & Furious 6, Heist, and Deadpool. The former fighter was set to be featured in a Star Wars project but was fired from the role due to some controversial events that went down on social media. For actions, Carano fell victim to the modern 'cancel culture' and received a great deal of backlash.
ADVERTISEMENT
Article continues below this ad
On a recent episode of The Joe Rogan Experience, Carano opened up about the toll that the 'cancel' culture took on her health. Joe Rogan was shocked to find out that the actress lost 95% of her hearing due to her criticisms and about the toll, it took on her personal life.
Carano said, "I had all these really scary incidences with like stalkers…. I lost all my hearing. Like my hearing just went away… As soon as it happened, I had ear muffs on me."
Rogan asked, "So 90% of your hearing?" Carano answered, "Yeah, like 95 (%). I couldn't hear anything. "
She added, "I couldn't talk to anybody on the phone. I just barely got Ben Shapiro on the phone that night, but I was still, kind of like, 'what', you know? Like tryna hear everything he says and everything past that had to be over text message. And I couldn't talk to my family."
Carano's hearing is now much better and she seemed to be fit and healthy in her conversation with Joe Rogan.
Gina Carano sheds hope on a fight against Ronda Rousey
ADVERTISEMENT
Article continues below this ad
In her conversation with Joe Rogan, Gina Carano did not shut down the idea of making a comeback to the MMA world to take on Ronda Rousey. Rousey recently made a statement that she would only come back to fight Carano, and Carano made things clear during her JRE appearance.
She said, "I still can't even say that I wouldn't (fight Rousey)… Honestly, I feel like she's the one as well if I wanted to you know (fight again)."
ADVERTISEMENT
Article continues below this ad
WATCH THIS STORY: Israel Adesanya vs Jared Cannonier: Date, Time, Venue, Tickets, and Live Stream Event
Do you think we'll ever get to witness a bout between Ronda Rousey and Gina Carano? Let us know in the comments section below.
Edited By: Vibhanshu Kumar