Joe Rogan Reasons Why Khabib Nurmagomedov Is a Massive Star Despite No Trash-Talking
Published 12/23/2020, 2:28 PM EST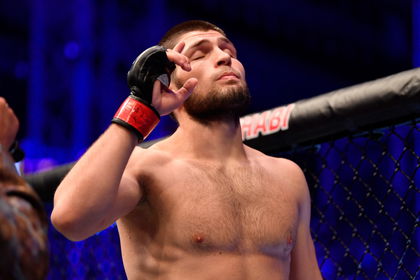 ---
---
Mixed martial arts, as a sport, has grown by leaps and bounds in the last decade or so. A rise in trash talk as machinery to sell fights has also seen a sharp rise. However, despite the heightened interest of fans towards fights that involve a bit of back-and-forth, there are fighters who can sell fights despite talking a lot of trash. Khabib Nurmagomedov is, arguably, the biggest example of the same.
ADVERTISEMENT
Article continues below this ad
The BBC World Sport Star Of The Year is one of the biggest stars in the sporting world and not just in MMA. UFC commentator Joe Rogan credits his fame and success to the dominance that he exhibits inside the Octagon.
"Well Khabib Nurmagomedov is the biggest draw in combat sports and he doesn't do any trash talk," Joe Rogan said regarding if trash-talks are becoming mandatory to sell a fight or not.
ADVERTISEMENT
Article continues below this ad
One of the driving forces behind the rise to stardom for 'The Eagle' has been his undefeated record. Particularly in the last two fights, the UFC has been marketing his opponents as the ones capable enough to overcome his challenge.
"When you have a guy who's 29-0 and really smashed everybody in front of them, you always wonder who's going to solve that riddle. Justin [Gaethje] came real close with those leg kicks. He was really f***ing up his leg, but Khabib figured out a way to get the fight to the ground. Almost finished at the end of the first round and then got him in the second round."
"He's just smashing people" – Joe Rogan on Khabib Nurmagomedov
The UFC 155-pound kingpin is the kind of fighter whom young and coming fighters can look up to, not just in terms of fighting but in terms of their conduct outside the Octagon as well. Throughout his run in the UFC, he has conducted himself with dignity which is the hallmark of a true champion.
His success is also a product of his discipline towards the fight game. Despite basking in the glory of fame and money, he has never let anyone question his honor.
ADVERTISEMENT
Article continues below this ad
"He's on another level. You gotta realize that guy is supremely disciplined and supremely dedicated. Doesn't drink, doesn't smoke, doesn't f**k around, doesn't abuse his body. [He's] always fighting, always in shape, and lives like a champion. He's very religious. Very devout Muslim. He's not partying. He's not doing coke or banging h**s. He's just smashing people," Rogan added.
The words of the UFC commentator are a reflection of his praise for the champ from Dagestan. However, he feels Nurmagomedov is still in his prime. Hence, the pain of seeing him walk away from the sport is something that is evident in Rogan's voice. It feels as if deep down he's also wanting to go for 30-0 in the future.
ADVERTISEMENT
Article continues below this ad