"Joe Rogan & Them Men Are Going to Need Armed Guards" After Apparent Will Smith-Inspired Assault on Dave Chappelle
Published 05/04/2022, 1:30 PM EDT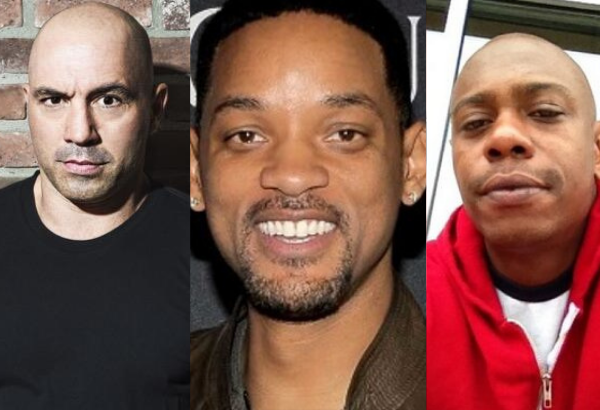 In a rather strange turn of events, another veteran comedian has found himself at the receiving end of an onstage assault. The incident occurred in Los Angeles during a Netflix Special show featuring legendary comic, Dave Chappelle.
ADVERTISEMENT
Article continues below this ad
A fan took to the stage and tackled the comedian to the ground, which reminded the world of a similar incident that occurred at the Oscars 2022, involving Chris Rock and Will Smith.
ADVERTISEMENT
Article continues below this ad
Quite naturally, fans made the same connection between the two incidents, which irked the community as a whole. Twitter users took to social media to voice their opinion and shared their displeasure.
The community even called out Joe Rogan to help create a safe space for comics and put an end to these incidents.
Fans call for Joe Rogan to intervene and prevent these incidents
Twitter user, The Angry Gamer, wasn't pleased with how things panned out during Chappelle's performance. He voiced his displeasure on the platform and even asked for UFC Icon Joe Rogan to arm himself against such fans," you've encouraged so many other as*holes to be a simp like you, @joerogan and them man are going to need armed guards on stage now… it's mad you."
It is also being reported that the attacker was carrying weapons. Thankfully, security and guards rushed to the stage just in the nick of time to prevent it.
The armed man may have tackled Chappelle to the ground, but the security put him in an armbar and removed him from the premises. "The elbows aren't supposed to be bent that way," said another user.
It seems like Chris Rock got a chance to sneak in a minor joke towards Will Smith, as he rushed to the stage to help his fellow comedian.
Things would have ended differently if Joe Rogan was involved. The fan might have landed on his head, or could have been put to sleep without a doubt. Rogan is an experienced martial artist holding multiple black belts.
Watch this story: UFC 274: Date, Time, Tickets, Venue, and Live Stream
Fans are calling the veteran comedians and Elon Musk 'warriors of free speech' as the situation continues to develop. Musk has voiced similar opinions about Twitter and even made a remarkable bid to take it over completely.
Joe Rogan, Elon Musk, James Woods, and Dave Chappelle are all warriors for free speech.

— Kim McILwain (@CockerMonica) May 2, 2022
ADVERTISEMENT
Article continues below this ad
Should Will Smith be held responsible for this incident? The community certainly believes that.
ADVERTISEMENT
Article continues below this ad
Do you agree with the fan's assessment? Share your thoughts below.