"John Cena' Knockout" – Fans Go Wild as Fighter Kisses the Canvas to Invisible Strike at Japanese Promotion "No Kick No Life"
Published 03/17/2023, 7:19 AM EDT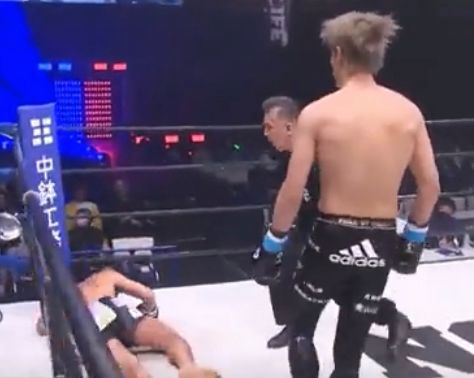 Fans of MMA love to see different kinds of knockdown moves during fights. There is nothing more exhilarating than seeing a fighter take down their opponent with an unexpected and awe-inspiring move. Some MMA moves are so quick that they are hard to catch a glimpse of in real time.
However, with the help of modern technology, fans can slow down videos and appreciate the skill and precision of these moves. Recently, a video was posted on Twitter that quickly went viral among MMA fans.
Terrance McKinney and the MMA world react to the quick move
ADVERTISEMENT
Article continues below this ad
The video featured a fight from a Japanese Muay Thai promotion. In the video, a fighter threw a quick elbow to his opponent's face while blocking his opponent's punches. The elbow strike was so quick that viewers had to watch the video in slow motion to fully appreciate what had happened. The fans had wild reactions to it, with many calling it one of the best knockdown moves they had ever seen.
One person who was particularly impressed with the move was MMA fighter, Terrance McKinney. He reacted to the video on Twitter by writing, "Thats crazy".
His reaction was not unique. Many other fans also expressed their amazement and admiration for the fighter who had executed the move. Here are some of the fan reactions.
One compared the KO to John Cena's 'You can't see me' tagline.
Another fan had a thrilling response.
American Muay Thai fighter William Cavali expressed his desire to fight in the promotion.
Perfect. I can't wait to fight out there

— William SKMG Cavali 🦂🩸 (@FlyNiggaMuseum) March 17, 2023
NBA star Chris Palmer had to slow the video down, just like all others.
Didn't see it in real time. Took me a minute.

— Chris Palmer (@ChrisPalmerNBA) March 16, 2023
One fan had a unique stance of the knockdown
That wasn't an elbo. He punched himself and damn near knocked out. Wonder how the rest the fight went.

— Justin Hoffman (@justincase27) March 16, 2023
Another one described the move perfectly.
A well timed elbow to the face, blink and you will miss it 👌

— Simon (@sim78a) March 17, 2023
Thus, the combat community had tons of opinions about the same.
About the fight that resulted in the unreal elbow strike
ADVERTISEMENT
Article continues below this ad
The fight took place on February 11th, 2023, in the No Kick No Life MMA promotion. The two fighters in the video are Tsukuru Midorikawa and Kaito Ono. It was Ono who landed the elbow strike in the first round. He ultimately won the fight via stoppage in the first minute of the third round.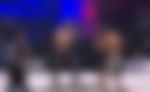 Kaito Ono is an established star in the Japanese MMA world, and this fight is just one example of his impressive skills. He has been competing professionally since 2014 and has amassed a record of 50 wins and 6 Losses. Ono is known for his speed and agility in the ring, which allows him to execute moves like the elbow strike with precision and accuracy.
ADVERTISEMENT
Article continues below this ad
Watch This Story – Khabib Reacts To Manchester City Stars
Overall, this video has become a sensation among fans of MMA, who are always on the lookout for the next exciting move or knockout. Kaito Ono's impressive skills and quick thinking in the ring have garnered him a lot of attention. Fans are eager to see what he will do next.