Jon Jones Says He Transformed Into a 'Feather-Man' and Had a Divine Experience
Published 04/12/2021, 7:50 AM EDT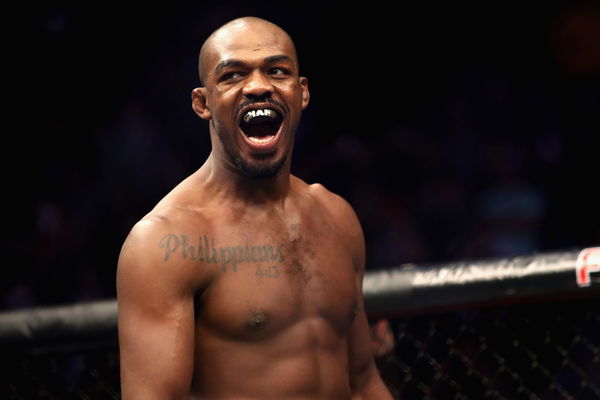 ---
---
One of the most interesting by-products of sports is sports psychology. It reminds us that while we might look from the outside and treat it as a spectacle, the human element can never be forgotten. Jon Jones reminded the fans of the same when he explained how his signature crawl originated.
ADVERTISEMENT
Article continues below this ad
"My first crawl, not up into the cage but crawl towards an opponent when the fight started, and that was with Rampage Jackson," Jones said, talking to Steve-O's Wild Ride!
He mentioned that normally people used to start fights standing up. However, ever since he started crawling at the beginning of a fight at UFC 135, everyone started doing it.
ADVERTISEMENT
Article continues below this ad
"With Rampage Jackson, I kept having these nightmares that I would get knocked out. No matter how the fight played out, I would always get knocked out, and it was always within the first 30 seconds of the fight," he said. Furthermore, he said that sometimes he would get caught with an overhand right, sometimes with a left hook in first 30 seconds of the fight.
"I just couldn't avoid these images of Rampage Jackson knocking me out. On fight night, I felt like I was gonna get knocked out, and I felt like this was coming for me energetically," Jones said. Subsequently, 'Bones' sat down to pray and got down on his knees. As a man who desperately needed help, the light heavyweight champion asked god for some supernatural abilities ahead of his maiden title defense.
Jon Jones and his alter-ego: Feather man
As he said this prayer, Jones claimed that his entire body, apart from his face, was covered with feathers. Steve asked him if that was a hallucination, but Jones denied that and said that it felt real to him.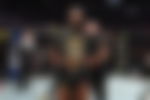 "I felt like I was this fighting thing that wasn't earthly. I felt this surge of energy, power, mental acuity, and awareness and sharpness that I had never experienced before," Jones said.
He further explained that the energy was so strong that he didn't need to stretch, and there was no need for warming up. His kicks were lightning-fast, and he was jumping higher than usual.
He explained that he was able to hang on to this feeling and had become this alter ego that was almost invincible. The then 24-year-old walked out to the octagon in that state of mind. He claimed that it was the first time he headed into a bout as 'The Feather Man.'
Feather man to the rescue, the beginning of a statement from 'Bones'
Well, this 'Feather Man' found a brilliant loophole to Jones' nightmares. He said, "My idea to crawl towards him was the only thing that hadn't happened in all my nightmares because, in every fight, I started on my feet."
ADVERTISEMENT
Article continues below this ad
Jones started a trend, and the rest of the fighters just followed suit with it. It was something that looked cool for them, but for Jones, it was so much more, as crawling enabled him to get into the zone. Additionally, no one can deny that it is very intimidating and can put fighters of their games.
What did you make of the origin story of Jones' Octagon crawl?
ADVERTISEMENT
Article continues below this ad