Kamaru Usman Brothers: What is Mohammed Usman's MMA Record?
Published 03/14/2023, 1:21 AM EDT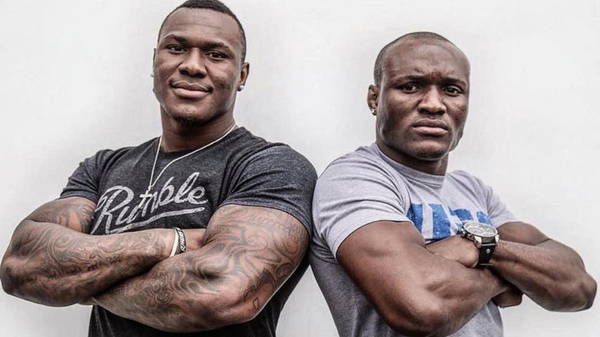 The former UFC Welterweight champion, Kamaru Usman, didn't quite have a favorable last outing. The 'Nigerian Nightmare' fell to his fellow Welterweight, Leon Edwards losing out his Welterweight title in the process. But history bears testimony to the fact that Usman has risen up stronger after a defeat. The fighter was subjected to a defeat pretty early in his career in just his second fight but rose from the ashes.
Usman's hardcore fans know how he took the light out of this defeat. He worked on his weaker links to improve them to such a level that he went on an insane 19-fight winning streak after his defeat. Usman's unmatchable fighting spirit could well be traced back to his roots. His father used to be a major in the Nigerian army. He might have inherited this toughness and fighting spirit from his father. Substantial proof of this inherited toughness can also be found by taking a look at one of Usman's younger brothers as well.
Who are Kamaru Usman's Brothers?
ADVERTISEMENT
Article continues below this ad
The former UFC Welterweight kingpin has two brothers named, Kashetu and Mohammed. Usman's choice of taking up combat sports reportedly inspired his brother Mohammed as well. He retraced the footsteps of his elder brother to become a professional MMA fighter.
The 33-year-old Mohammed has fought across multiple fight promotions, including the coveted 'PFL' prior to his UFC debut. Mohammed took on the American Zac Pauga on his UFC debut at UFC on ESPN 40 – Santos vs. Hill.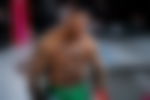 He also managed to win his initial UFC bout by knocking out his opponent in the first minute of the second round. This bout was actually the finale of the 30th season of 'The Ultimate Fighter'. Mohammed's victory in it made the Usman brothers the first-ever sibling duo to win the TUF. His brutal punching power was also put on display in his very first UFC bout.
Is Mohammed Usman related to Kamaru Usman?
As described in the earlier part of the piece, Mohammed Usman is the younger sibling of the former UFC Welterweight champion Kamaru Usman. The two also reportedly grew up together in the same family along with another younger sibling, and their parents.
As far as reports suggest, the sibling duo maintains a loving relationship between themselves. Like Kamaru, Mohammed also invited his family inside the octagon, post his initial UFC victory. A lot of fans might gain an idea about the strong bonds between the members of the Usman family from these incidents.
The heavyweight fighter has an 8-2 professional record.
Mohammed Usman loves comparisons with brother Kamaru
Mohammed took to the mic at the pre-bout press conference of his TUF 30 final and talked about how he loves when he is linked to his famous elder brother, Kamaru. The elder Usman had always been Mohammed's inspiration to take up fighting. Moreover, it was quite understandable that Mohammed was proud of the accolades and fame which his brother had achieved in the MMA world.
Answering a question about this issue, 'The Motor' stated, "I love it. He's an Usman. It's our last name. I'm here because of my brother for the aspect of he started fighting before me."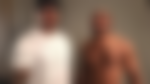 However, Mohammed also narrated that nothing had come easy to him due to his brother's fame. He stated how he had also put in all the required work to achieve the position he was in. 'The Motor' iterated, "I had to put the work in to get here. It's not, 'Oh, Kamaru's your brother. Now let's just push you up here'". He further described why he had such an incredible affinity towards fighting.
Mohammed stated, "Everything about fighting is yourself. That's why I love it so much, because as much as people speak about my brother, that's why I love it because I'm still the one that has to go out there and compete and have to fight and have to win."
Kamaru Usman's relationship with Khabib Nurmagomedov
Usman has been vocal about the strong friendship between him and the noted undefeated former UFC Lightweight champion, Khabib Nurmagomedov. The 'Nigerian Nightmare' and 'The Eagle' both trained under Dominance MMA and shared a common manager, Ali Abdelaziz. After getting into Dominance MMA, the duo struck up a strong friendship.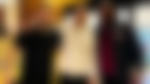 After Usman's head-kick loss against Leon Edwards, Nurmagomedov had expressed his worry regarding his loss. He had also feared that his friend Usman might "never recover" from the shock of that vicious knockout. However, Khabib still placed his faith in his friend and believed that he definitely could defeat the current Welterweight king. Leon Edwards, in their trilogy bout.
In turn, Usman has also gone vocal about how a bout between him and Nurmagomedov would be absolutely epic. But, in the same TMZ sports video, he also mentioned he would never fight 'The Eagle'. Although at the time of this interview, Nurmagomedov had already quit UFC, still it was evident from Usman's words that he wouldn't have fought Nurmagomedov even if he had stayed with the promotion.
The strong bond of friendship that Nurmagomedov and Usman share could be well understood from these incidents, although there are a lot of other ones as well.
ADVERTISEMENT
Article continues below this ad
All about Kamaru Usman's next Fight at UFC 286
Usman is all set to take the octagon in the main event of the UFC 286 on 18 March. The 'Nigerian Nightmare' will be visiting his opponent's den, the UK, for his next bout. The coveted trilogy bout between Usman and his known rival, Leon Edwards, had been in the talks right from Usman's UFC 278 defeat.
Watch this Story – UFC's Jorge Masvidal Ignores Israel Adesanya & Alex Pereira To Name Johnny Eblen the 'Best' Middleweight in the World
ADVERTISEMENT
Article continues below this ad
Fans at the O2 Arena in London will be expecting an enthralling main event looking at the reputed prize at stake. The current Welterweight champion, Leon Edwards, will put his gold on the line for the bout. Also, the bout will present an awesome opportunity for Usman to avenge his humiliating UFC 278 loss. A win for Usman will regain his lost UFC Welterweight title as well.
All in all, a lot of fans and Usman himself might view his UFC 286 bout as an opportunity to reincarnate himself, erasing the shadow of defeat following him currently.