'Kamaru Usman Could Stop Those Takedowns'- John McCarthy Says Khabib Nurmagomedov Would Lose in Welterweight Division
Published 07/06/2021, 8:39 AM EDT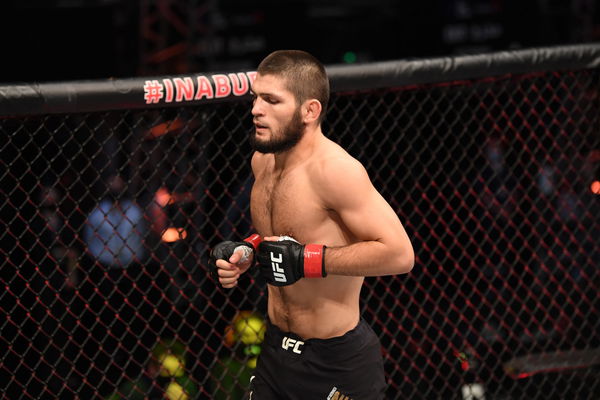 Khabib Nurmagomedov is one of the greatest professional MMA fighters of all time. 'The Eagle' was undefeated throughout his MMA career and has a record of (29-0). Nurmagomedov was the undisputed king of the lightweight division and was the UFC's longest-reigning lightweight champion, holding the title from April 2018 to March 2021.
ADVERTISEMENT
Article continues below this ad
As 'The Eagle' was undefeated, in his professional career, many people tend to speculate as to what the fighter would have done had he been a part of any other division. Recently during a fan interaction session, former MMA referee John McCarthy talked about how Nurmagomedov would do if he moved to welterweight.
'Big John' said, "Let me make this clear, he would do fantastic. Now could he keep his undefeated record, maybe not. There could be someone that could give him problems. But, you're talking about a guy, that what he walked around 190 pounds, sometimes yeah, 185, 190. He's a big guy anyway, so it's not like welterweight would be a class oh, he could not go and fight."
ADVERTISEMENT
Article continues below this ad
Watch This Story:  Gilbert Burns vs. Stephen Thompson Stats: Record, Reach, Height, and More
McCarthy even talked about how many fighters have done the same and have been successful after making a move up.
"Take a look at someone like Masvidal all right, Masvidal was a guy that was in the lightweight cutting a lot of weight, was not as successful as Khabib and very successful up in the welterweight, why, he's got talent, he's got skill, and those skills transfer. Gilbert Burns, he's another one, take a look at what he's doing. Khabib would do fantastic going up to welterweight."
How would a fight between Khabib Nurmagomedov and Kamaru Usman play out?
When the talk of how Nurmagomedov would do if he moved to welterweight started. There was one question that was bound to come, How would Khabib Nurmagomedov do against 'The Nigerian Nightmare'?
McCarthy talked about the same, and share his views on the matchup. He said, "Would he be champion, there's a good possibility that he would. His fight against someone like Usman would be interesting to see, because could Usman stop the takedowns, not many people were able to do that."
ADVERTISEMENT
Article continues below this ad
"But Usman's got a lot of great wrestling ability and he's got power in his hands. So could he beat Khabib, yeah he could. No doubt about it, he's the champ and has the ability to do that. But in retrospect it's 50-50, Khabib would have the ability to beat him too, it would be a fantastic fight One that I would love to see. If he went up to 170, he would still be fantastic."
While Nurmagomedov ended his career as the undisputed king of the UFC lightweight division. There was a time when 'The Eagle' did compete in the welterweight division. From 2010 to 2012, Nurmagomedov fought in 8 welterweight fights, winning all of them.
Therefore, we can see why McCarthy believes Nurmagomedov would do great in welterweight as even his past record proves that. Although McCarthy is still skeptical of what would happen if Usman met Nurmagomedov as he believes 'The Nigerian Nightmare' can stop 'The Eagle.'
ADVERTISEMENT
Article continues below this ad
How do you think Nurmagomedov would do against the likes of Kamaru Usman? Let us know in the comments below.