Kamaru Usman is Not Greater Than Georges St-Pierre Says Chael Sonnen
Published 04/26/2021, 12:24 PM EDT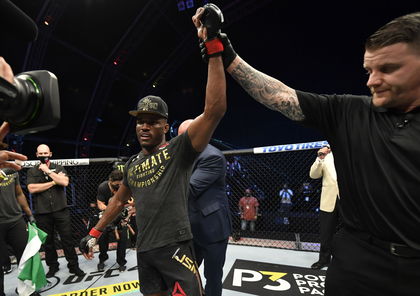 ---
---
Kamaru Usman defended his Welterweight title against Jorge Masvidal at the UFC 261 main vent. Usman knocked out Masvidal in the 2nd round of the match itself, defending his title for the 4th time in a row.
ADVERTISEMENT
Article continues below this ad
This victory led to many fans and critics calling Usman the greatest Welterweight fighter in UFC history. While many people believe Usman to be the Welterweight GOAT, MMA analyst and former UFC fighter Chael Sonnen is not one of them.
Sonnen believes that Georges St-Pierre remains to be the greatest welterweight of all time and 'The Nigerian Nightmare' still needs to achieve more before he can topple GSP.
ADVERTISEMENT
Article continues below this ad
"St-Piere did some things that if you're having an argument you can't get around. St-Pierre beat everybody, then he went and beat them again. Then he came back and took on another division. I mean, do you see the problem?" 
Sonnen continued, "Not only did George beat the guys of yesteryear right the Matt Hughes and the BJ Penn's. He'd beat all the guys of his time, Josh Koscheck and the Carlos Condit and the Diaz. But then he beat the next generation, you can just get around that."
While Sonnen believes Usman is not yet the greatest, he believes that the current UFC welterweight champion can eventually become the GOAT.
"Even if Usman was better than GSP, if we're having this and we're settling this through words and through a debate, you can't beat those arguments.
"You can't beat them until a period goes by until Usman leaves the sport himself and hopefully someday that he runs off with the title and all of a sudden he can match GSP."
What happened in the fight between Kamaru Usman and Jorge Masvidal?
The fighter between Usman and 'Gamebred' was touted to be one of the best fights of the year. The pair had earlier competed at the UFC 251 event, Usman won that fight via a unanimous decision.
Therefore fans were really excited to see how the fighters would perform in a rematch.
ADVERTISEMENT
Article continues below this ad
Alas, the fans could not see a high-intensity fight, as Usman probably put in his best fighting performance inside the Octagon. 'The Nigerian Nightmare' dominated the fight and comfortably knocked Masvidal out.
Building up to the fight, Masvidal had claimed that he did not win the last fight as he could not get enough time to prepare. Although that was true, during this fight it looked like no amount of preparation could have helped 'Gamebred'.
ADVERTISEMENT
Article continues below this ad
Kamaru Usman might not yet be the greatest UFC fighter of all time, but if we can take anything away from his performance at UFC 261 is that the fighter is certainly on his way to the top.