Kamaru Usman Net Worth: How Much Has He Earned in His UFC Career?
Published 04/24/2021, 12:42 PM EDT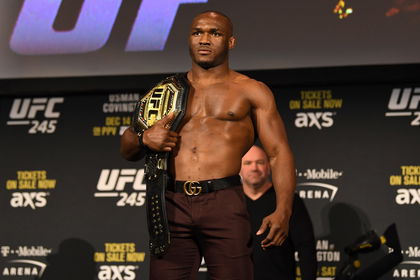 ---
---
Being a UFC fighter might be the dream of many people. Watching people like Conor McGregor and Israel Adesanya living a flashy lifestyle has surely made people forget the struggle that they have faced to reach there. Similarly, there's the welterweight champion of the world, Kamaru Usman.
ADVERTISEMENT
Article continues below this ad
Usman is one of the most successful fighters in the UFC and seems unbeatable. He has a record of 18-1, and his one loss came in his second fight in MMA. However, is he really compensated enough for all of his achievements?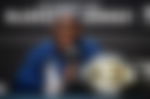 According to celebritynetworth.com, the answer is no. The website states that Usman is worth a paltry 3 million dollars. It might seem a lot for the common man, but when you realize that boxers like Floyd Mayweather earn 40 million dollars per fight, it pales in comparison.
ADVERTISEMENT
Article continues below this ad
However, the truth of the matter is that Usman is worth more than the three million dollars people assume he has. According to Sporting News, the Nigerian champion is set to earn at least 500 thousand dollars for his main event title defense against Jorge Masvidal.
Usman has also pocketed a hefty 500 thousand dollars for his fight against Colby Covington. Additionally, he got the same amount for defeating Masvidal at UFC 251. However, these amounts are the amounts that are disclosed by the UFC. The fighters also earn an undisclosed amount of money from the pay-per-view sales.
Kamaru Usman and the undisclosed money he earned from the UFC
Usman's first fight against Masvidal sold 1.3 million pay-per-views. A major chunk can be attributed to Masvidal, but Usman must have still earned at least 50 thousand dollars in this bonus. He has also earned a performance of the night bonus for his win over Rafael dos Anjos.
ADVERTISEMENT
Article continues below this ad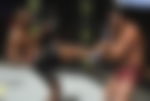 Adding it all up, it can be said that Usman is earning a lot of money in the UFC. This will be Usman's fourth main event on a major UFC card and the one which earns him the most. His net worth is definitely more than the reported 3 million dollars, and he deserves every single penny of it.
Do you think UFC fighters get paid enough?
ADVERTISEMENT
Article continues below this ad