'Khabib Has Never Been in Trouble' – Joe Rogan Says Khabib Nurmagomedov Has a Solid Claim to Be Called the MMA GOAT
Published 08/25/2021, 11:57 AM EDT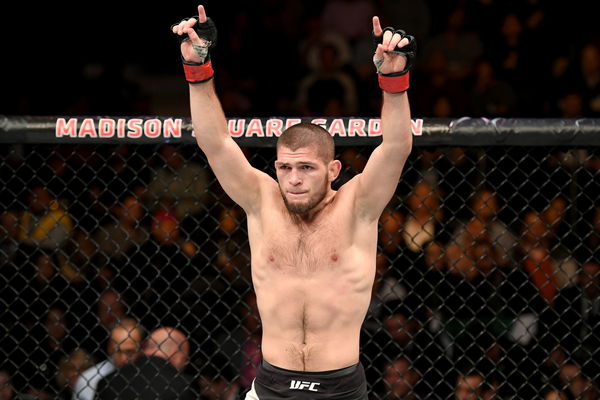 ---
---
Khabib Nurmagomedov is inarguably one of the greatest fighters to ever be a part of MMA. 'The Eagle' has a phenomenal MMA record of 29-0, having never lost a professional MMA fight. Therefore, often Nurmagomedov is touted by many to be the greatest MMA fighter of all time.
ADVERTISEMENT
Article continues below this ad
While there are various other fighters like Jon Jones, Georges St-Pierre, Anderson Silva, and Demetrious Johnson, who are often touted to be the MMA GOAT. It all comes down to the personal preference of a particular individual.
ADVERTISEMENT
Article continues below this ad
However, recently during a podcast, UFC color commentator shared his views on why he thinks Nurmagomedov is the MMA GOAT. He said, "Khabib Nurmagomedov is a very, very good candidate. Because in my opinion, Khabib is probably the best candidate, because Khabib not only did he not lose a fight, he barely lost a round."
Watch This Story: Top 5 Records Held by Khabib Nurmagomedov in the UFC
"He lost maybe one round to Conor, and it seemed like he was just taking the round off, like to kind of, you know, preserve his energy, so he could finish Conor afterward, and he did. He wound up finishing him."
Rogan clearly believes that Nurmagomedov's ability to always stay in control of the fight and face no trouble makes him the greatest of all time.
Joe Rogan says Khabib Nurmagomedov has never been in trouble in a fight
Rogan also talked about the one fight in which he thinks 'The Eagle' was in trouble. He then goes on to talk about how even in that fight, Nurmagomedov ultimately came out on top in convincing fashion.
He said, "Khabib has never been in trouble in a fight. Michael Johnson tagged him once, and Michael Johnson is a guy that doesn't get nearly enough respect. Yeah, he's had some rough losses, but Michael Johnson knocked out Dustin Poirier with one punch. Michael Johnson was a dangerous dangerous man, and he still is."
ADVERTISEMENT
Article continues below this ad
"And he tagged Khabib. It probably had Khabib in the most trouble ever in a fight. He had him wobbled. But Khabib ultimately won that fight and destroyed him."
"I mean, he was pounding on him. He was telling him to quit now, quit now. You know I deserve the title shot, beating it out of him, and then put him in a Kimura and tapped him. Its arguable that Khabib is the greatest of all time."
ADVERTISEMENT
Article continues below this ad
To hear Rogan say that Nurmagomedov is the greatest of all time is very surprising, as the UFC commentator has often been critical of Nurmagomedov's kickboxing abilities. What also surprised many was that Rogan has always considered Jon Jones to be the GOAT over 'The Eagle.'
What do you think about Rogan's comments? Is Khabib Nurmagomedov the MMA GOAT? Let us know in the comments below.