Khabib & His Team's "Natty" Status in Question as Rare Shirtless Photo of Protégé Islam Makhachev Goes Viral
Published 12/28/2022, 7:45 AM EST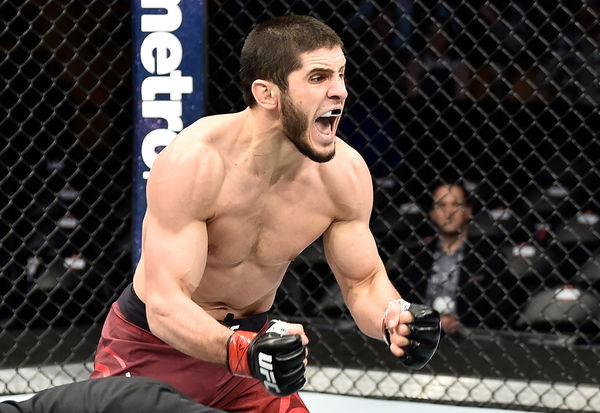 Khabib Nurmagomedov's prodigy, Islam Makhachev, has taken over the world by becoming the UFC lightweight champion. However, the champion's superior physique has always welcomed questions about him being natural. Netizens have been hit with news of people 'juicing up' children to enable them to have a magnificent physique later on in their life. However, the accusations like these sometimes have no foundation. With combat sports fans all over the world joining the parade, some had to go against the fighter, and some with him. 
After Bobby Green and Michael Chandler accused the fighter of having used performance enhancers, the world stuck itself in finding an end to the debate. Probably following the same trend, a Reddit user shared a picture of Makhachev, raising doubts about his natural body.
ADVERTISEMENT
Article continues below this ad
Fans split in half over a jacked Islam Makhachev
Recently, a user posted a photo of the Dagestani warrior when he was 20 years old on Reddit. The user wrote, "This is 20 year old Makachev. Let's be real him and khabib were probably juiced to the gills as kids and they didn't even know. In Dagestan wrestling clubs feed kids vitamins. He's probably natty today but that doesn't take away the effects of juicing as a kid." 
Without a doubt, the UFC fans divided themselves into two factions. While one faction stood in support of the UFC champion, others denied his body was natural. 
Here's what fans had to say:
not everyone with a muscular physique is on steroids




believe it or not, some athletes look…….. athletic.

I would also imagine people are more likely to naturally get to this level if they grow up on crazy mountain compared to growing up playing video games and eating cheetos.

To be fair these guys are SUPER dedicated. They don't drink alcohol or party. They only eat clean and train 24/7. Combine that with supplements and an all-natural diet, unprocessed meat etc… it's entirely possible. Look it up, Jamie.

I mean he's a world champ, good food, good genes and hard training can achieve his physique fairly regularly, even at 20 y/o.

There's lots of natural ways to boost testosterone.

Working out hard from a young age achieving this doesn't need roids

Not unbelievable they're jacked like that considering how they lived. Constant training, military like life.

Bro look at his capped shoulders you're tripping if you think this is natty
Bobby Green's accusation 
Green's attention hooked onto his former opponent, as he emerged victorious over Charles Oliveira in UFC 280. Following the events of UFC 280, Green revealed his lessons from a YouTube video and disclosed his beliefs in an interview.
ADVERTISEMENT
Article continues below this ad
The 'King' said, "I was on my YouTube and I found this little video and it said Islam had a little problem with dr*gs but I don't see people talking about him." Moreover, the fighter strengthened his accusation; by further adding, "Imagine if you gave someone steroids from the age of 10, 12, 13…"
ADVERTISEMENT
Article continues below this ad
Watch This Story: Five Times Islam Makhachev Annihilated His Opponents Inside the UFC Octagon
Nonetheless, the world can never be quieted down without a strong result on paper marked 'negative'. What are your thoughts on the ripped body of the current champion? Let us know in the comments down below.
Edited By: Vineet Nandwana