Khabib Nurmagomedov Discusses Football – Plans to Invite Gonzalo Higuain on the Next Show
Published 01/30/2022, 10:45 AM EST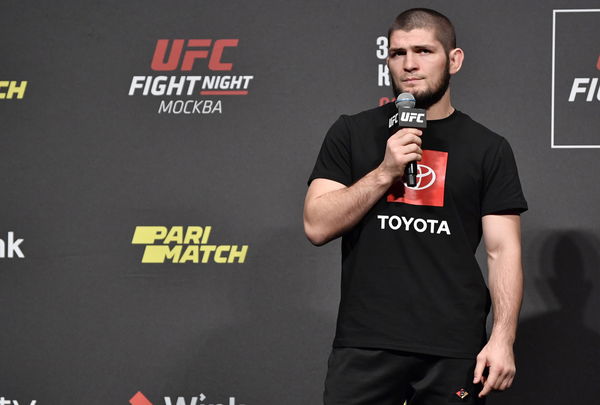 Khabib Nurmagomedov is one of the biggest names in MMA today. He is a former UFC lightweight champion, and one of the most dominant fighters of all time.
The Russian retired from active competition in 2020. 'The Eagle' left the sport with an unbeaten record of 29-0 and now has his own MMA organization. Eagle FC recently held its first event in the U.S. During the post-fight press conference, Nurmagomedov was asked a few questions regarding his favorite sport, football.
David Beckham was supposed to attend Eagle FC 44, but couldn't. Regarding that, Nurmagomedov said, "Yeah, I talk with him yesterday, he say he's still in London. And he feel bad for this you know. He was very excited to come to our event and watch some great fights. But he told me he in London."
ADVERTISEMENT
Article continues below this ad
"Honestly, I forgot about him. Maybe I'm gonna invite him on the next show because he's Madridista. He's from Madrid. This is a good idea, I'm gonna contact with him. I'm very close with Benzema. I think they talk with each other," he said when asked about inviting Gonzalo Higuain.
Nurmagomedov couldn't choose a clear favorite for the champions league as well. He said, "This is very hard, you know. Some teams, early on in the season they beginning very good, end of the season their shape go down. I don't know how is it gonna be. But if I'm gonna choose, I choose four teams. Liverpool, (Manchester) City , Real Madrid, and Paris Saint-Germain. and of course, there is always there Bayern Munich. These five teams. But now they play, Real vs. Paris Saint-Germain, who knows. This is very hard to pick some one team."
Khabib Nurmagomedov loved football growing up
The former UFC lightweight champion has never shied away from showing his love for football. According to him, it is the best sport in the world.
ADVERTISEMENT
Article continues below this ad
Not so long ago, during an interview in London, he said that he didn't know why he became a fighter. Growing up, he loved football and could play alone for hours. He even admitted that he followed every league in the world, including the UEFA Champions League and the Premier League.
'The Eagle' also said that he fights because he knows how to fight.
ADVERTISEMENT
Article continues below this ad
WATCH THIS STORY – Everything You Need to Know About Khabib Nurmagomedovs MMA Promotion, Eagle Fighting Championship
He still keeps a tab on football matches and is even great friends with five-time Ballon d'Or winner, Cristiano Ronaldo. Not so long ago, he was seen having a friendly, combat sports style face-off with Ronaldo.