Khabib Nurmagomedov's Manager Showcases "Gangster Sh*t" With Donald Trump & Dana White
Published 05/02/2022, 5:00 AM EDT

Follow Us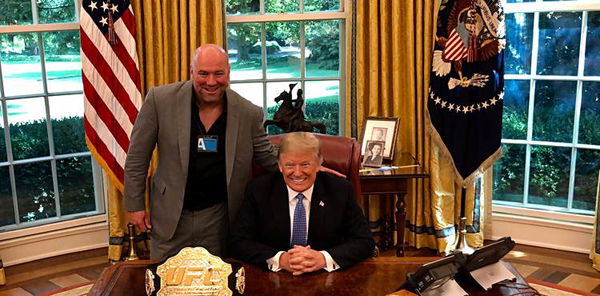 Mixed Martial Arts fighters are busy athletes. They have to manage their training, endorsements, and social events. They live a very occupied life. In order to balance out their occupied life, every fighter hires a manager. One such manager is the head of Dominance MMA and Khabib Nurmagomedov's manager, Ali Abdelaziz.
Abdelaziz has become very popular because of his work and the success of his athletes. Recently, he shared a story on his Instagram.
In the image shared by the head of Dominance MMA on his story, he can be seen on the stage with two influential figures. The two figures are former US President, Donald Trump and UFC President, Dana White. In the photo, Abdelaziz is respectfully standing as Donald Trump places his hand on his arm while Dana White looks on. Sharing the photo, Abdelaziz wrote, 'GANGSTER-S*IT'
ADVERTISEMENT
Article continues below this ad
This image shared by Abdelaziz proves his popularity and influence within the combat sports community and beyond. It is worthy to note that in the past few years, Ali has created a stable of UFC fighters and many of them have won championships in the UFC.
Dominance MMA and its rise.
Dominance MMA is a MMA Fighter management company with 15+ years of experience in the fighter management business. Ali Abdelaziz is the founder and CEO of Dominance MMA, whereas Rizvan Magomedov is the company's President.
Over the years, Dominance MMA has hosted some of the top fighters in the game. Under its stable, the company has fighters such as Khabib Nurmagomedov, Henry Cejudo, Kamaru Usman, and Fabricio Werdum to name a few. Dominance MMA has a lot of fighters signed to their management in other top promotions too.
A lot of fighters from Dominance MMA who compete in the UFC have gone on to win UFC World Championships and have had continued success over the years.
ADVERTISEMENT
Article continues below this ad
While certain people have a negative opinion about Abdelaziz, his clients love him extremely. Every fighter signed to Dominance MMA speaks highly of Ali Abdelaziz. Along with being a manager, Abdelaziz is a Judoka and used to fight MMA professionally. He is seen training with his clients, which enables him to connect with them closely.
Regardless of the opinions people have on Ali Abdelaziz, the fact that he is a successful manager is not up for debate. From getting his clients the best contracts and sponsorships to training with them himself, it seems as if Abdelaziz has been pulling all the right strings.
ADVERTISEMENT
Article continues below this ad
Watch This Story: Conor McGregor's Super Human Transformation After the Horrific Injury at UFC 264
Let us know what you think in the comments below.