Khamzat Chimaev's Lungs Not Recovered Yet- Manager Provides an Update
Published 12/31/2020, 12:20 AM EST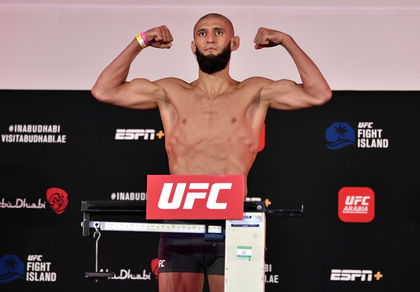 ---
---
UFC welterweight Khamzat Chimaev's team has come out and provided some clarity as to the reasoning behind his recent withdrawal. Chimaev's manager, Ali Abdelaziz, sent out a statement via ESPN's Brett Okamoto that clarifies his absence from his main event slot. 'Borz' was set up for the biggest booking of his professional career against top-ranked Leon Edwards.
ADVERTISEMENT
Article continues below this ad
The fight was originally booked to take place on December 19, 2020 as the final 'Fight Night' main event of the year. However, the bout failed to come together as Edwards came down with a terrible case of COVID-19. Chimaev also tested for COVID-19; however, he was cleared for action much sooner.
The bout came in again for January 20, 2021; however, news recently broke that Chimaev was out of the bout. Given Ali Abdelaziz's statement via Okamoto's Twitter, it's clear that COVID-19 played into the cancellation.
ADVERTISEMENT
Article continues below this ad
Statement on Khamzhat Chimaev (@KChimaev), via his manager Ali Abdelaziz (@AliAbdelaziz00). "Khamzat had coronavirus and when he went back to gym, his lungs did not recover 100%. He needs time for his lungs to recover, and right now it's about taking that necessary time."

— Brett Okamoto (@bokamotoESPN) December 30, 2020
Chiefly, this occurrence isn't uncommon amongst people who have suffered from COVID-19 and several fighters have reported the same. Getting back to the gym into a high octane training environment certainly takes its physical toll.
What's next for Khamzat Chimaev?
The consensus 'Breakout Fighter of the Year' in Chimaev has an extremely high ceiling despite this early setback. Fighting Leon Edwards who's ranked number three at welterweight would have been the perfect step to move into title contention. The Brit is looking to stay on the fight card and it seems as though the match-up could be indefinitely delayed.
ADVERTISEMENT
Article continues below this ad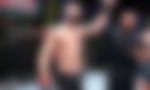 'Borz' has set himself up in a huge way by fighting, and more importantly, winning in two weight classes. This has opened up the possibility of middleweight match-ups that could help him bide time until another top-ranked welterweight signs the contract. What's more, the UFC certainly is looking for the best possible way to push Chimaev to the mainstream audience.
The Swedish Russian fighter has managed to set a modern-day UFC record by scalping three wins in just 66 days. Moreover, this feat blew out the previous record put up by light heavyweight Johnny Walker that stood at 105 days.
ADVERTISEMENT
Article continues below this ad
Khamzat Chimaev's willingness to scrap coupled with his brash trash-talking has opened up the door to exciting opportunities in 2021.