Leaked Video of Tyron Woodley Shows Massive Flaws in His Boxing Techniques Ahead of Jake Paul Fight
Published 08/21/2021, 12:04 PM EDT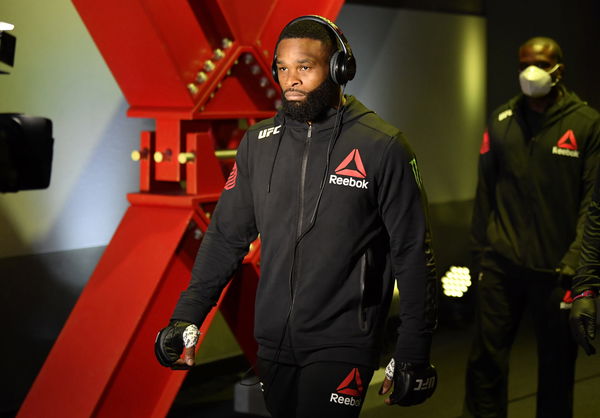 ---
---
Tyron Woodley is all set to face Jake Paul in a boxing match on August 30. This will be Paul's 4th professional boxing fight, while Woodley will make his debut. However, Woodley is a veteran fighter and has an impressive MMA record of (19-7). 'The Chosen One' is also a former UFC Welterweight champion and has plenty of combat sports experience.
ADVERTISEMENT
Article continues below this ad
Many also recognized Woodley as one of the best strikers to be a part of MMA. Therefore, when this fight was announced, many believed 'The Chosen One' will do well against Paul. However, a recently leaked video of Woodley's sparring session has left people in doubt of the UFC star's boxing ability.
ADVERTISEMENT
Article continues below this ad
Many fans and critics commented on Woodleys' basic boxing technique after watching the video. Most fans thought that Woodley is showing various flaws in his boxing techniques.
Watch This Story: John Cena to The Undertaker: WWE Superstars Who Took Out Two Opponents at a Time!
Recently, YouTube channel RoundHouse Radio and their host Riley Osborne also shared their views on the video. He said, "Instead of having a closed boxing guard, he has an open either MMA or Muay Thai guard. Now I think that's really important to note, as that's going to be an ideal guide for boxing when you're a guy like Tyron Woodley."
Tyron Woodley could have problems against Jake Paul
No one can deny Woodley's incredible MMA skills and his will to compete. However, after watching the video, fans have started wondering whether the fighter can beat someone like Paul in the boxing ring. Osbourne also talked about this and shared what he thinks can be the problems Woodley faces.
He said, "Tyron Woodley doesn't have great footwork, he doesn't have significant head movement. We've seen it especially in the couple of his fights in MMA, he's very stationary. The way he plants himself into the ground, he doesn't use footwork to get out of the way."
"So, for him, against a guy like Jake Paul who's going to be able to have a lot of volumes, he needs to have a good guard that can sort of bounce straight shots off without him having to be manually deflecting them."
ADVERTISEMENT
Article continues below this ad
"Why is his guard open, why is he doing this? Well, there are a lot of reasons for it right, specifically, Muay Thai and MMA fighters will have an open guard and they'll focus on parrying."
Woodley is a veteran fighter and knows how to compete against the toughest of opponents. Therefore, even though his technique seems a bit off too many fas. We hope the fighter will put his best foot forward and we will see an entertaining fight between him and Paul.
ADVERTISEMENT
Article continues below this ad
Who do you think will win the fight between Jake Paul and Tyron Woodley? Let us know in the comments.