Michael Chandler Says There's a 'Ton of Pressure' on Dustin Poirier Heading Into Trilogy Fight Against Conor McGregor
Published 04/01/2021, 10:54 AM EDT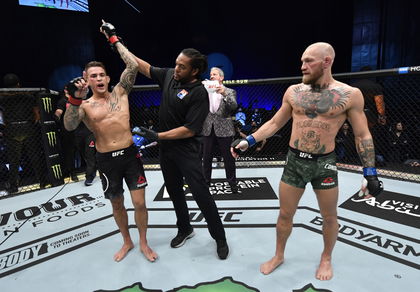 ---
---
UFC lightweight title challenger Michael Chandler spoke to MMA Fighting and shared his views on a consequential 155-pound bout. 'Iron' Chandler opined on Dustin Poirier vs Conor McGregor: The Trilogy, a fight that is due for the summer. Both men went to war at UFC 257 at the beginning of the year in a clash for the ages. Poirier showed that he's made major improvements since the last fight and is undoubtedly a force to be reckoned with.
ADVERTISEMENT
Article continues below this ad
Dustin Poirier came out on top against McGregor and tied up the score to their rivalry. What's more, both men have secured a TKO finish over the other, making the rubber match even more interesting.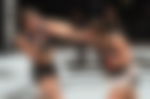 ADVERTISEMENT
Article continues below this ad
Michael Chandler looks at Poirier vs McGregor 3
Chandler weighed in on the aforementioned trilogy fight that has captured everyone's attention, and he had a unique perspective. According to Chandler, the pressure is on Poirier's shoulders despite the fact that he's coming off a TKO win. Michael Chandler arrived at this conclusion when considering that Poirier just turned down a title fight to scrap against McGregor.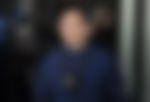 "Now that they're both 1-1, now it's a fight that Dustin can't lose. He knows he passed up on the title shot in order to take this fight. So, there's going to be a ton of pressure on Dustin to win this fight or else he passed up on a title shot that he might not get for a while. Taking another fight or two to get back to the title and it could be me and Conor fighting next, if Conor wins.
ADVERTISEMENT
Article continues below this ad
"I wouldn't say I saw it coming," Chandler said. "I definitely saw it coming that Conor and Poirier are going to do the trilogy. It makes sense for Dustin, makes sense for Conor to get that one back. It makes sense, it's a huge fight in the lightweight division. Makes sense in a lot of ways for Dustin to forgo the title shot and fight Conor."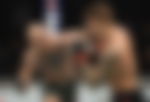 Time will be the best indication as to whether Michael Chandler's read on the situation turns out to be on point. Both men will be chasing the victory as a title shot is virtually guaranteed to the winner of the aforementioned trilogy. Not to mention, bragging rights over another top lightweight fighter is sure to sweeten the deal.
ADVERTISEMENT
Article continues below this ad