Miesha Tate's Health Update News Prompts Cody Garbrandt to Recall Painful Moment: "Urijah Had Me Dying That Day"
Published 03/12/2023, 8:05 AM EDT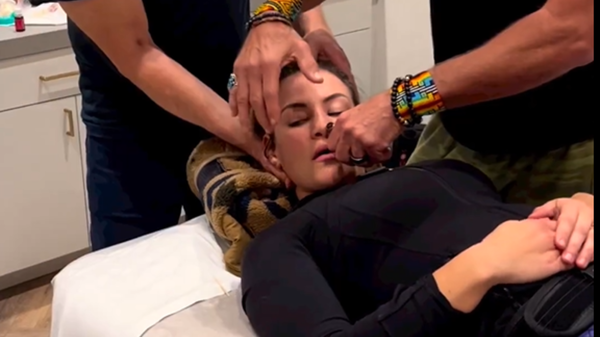 Its common knowledge that athletes undergo intense recovery procedures after a grueling season of training. While most fighters do the usual techniques of rest and recovery, we have also seen a few unique approaches be carried out by certain athletes. Former UFC champ Miesha Tate on her Instagram shared one such unique approach called the Nasal Cranial Release. Tate shared a clip of her undergoing this treatment, which apparently increases oxygen intake along with various other health benefits.
Interestingly, bantamweight Cody Garbrandt also underwent this procedure, along with his teammates, a few years back in a season of TUF. Garbrandt mentioned in the comment section of Tate's post on how painful it was for him and Urijah Faber to undergo the procedure, drawing reactions from fans.
Fans and Cody Garbrandt react to Miesha Tate's video of her undergoing Nasal Cranial Release 
ADVERTISEMENT
Article continues below this ad
Miesha Tate recalled Faber's horrific reaction to the treatment prompted her to try it out. But despite her nervousness, the 36-year-old appeared to have tackled it comfortably.
 

View this post on Instagram

 

Fans unaware of this process were quite curious and wanted to know what it exactly did. But it was Cody Garbrandt, who was one of the first to react to the video.
"Ahha Urijah had me dying that day." wrote Garbrandt.
Most of the comments were either people commending Tate or claiming that this technique was not beneficial.
"Wow I heard that was painful and it seemed easy for you"
"When I did that before my nose surgery the balloon got caught in my nose and they had to put another balloon up there to get the first one out. And the first one came out my mouth blowing" up. Lol"
"She has the pain tolerance of bull this woman."
"They've proven time and again from a medical perspective this is not good for you and can cause some serious cranial damage."
"I saw that years ago…to get more airflow thru nostrils…I think the boyz from team Alpha Male brought it on the scene…and quickly disappeared…"
"Oh hell no, that made my eyes water just watching"
Despite Tate's relative ease with the procedure, Garbrandt and Faber found the process excruciating. Moreover, the Team Alpha Male Gym members attempted this procedure during their stint at The Ultimate Fighter.
Cody and Urijah Faber had the exact procedure done earlier in TUF
ADVERTISEMENT
Article continues below this ad
Since Miesha Tate referred to Faber's experience with the cranial release procedure, it's only fair that we revisit the iconic moment.
Although his teammates found it amusing, The Team Alpha Male head coach's reaction to having a balloon blown up inside his nose had him writhing in pain. Despite fighters at elite levels employing this method to enhance performance, there are no detailed reports on the actual benefits of it yet.
ADVERTISEMENT
Article continues below this ad
Watch This Story: Jon Jones UFC Deal Compared to Francis Ngannou and Brock Lesnar
What do you make of Tate's decision to undergo the controversial treatment? Let us know your thoughts in the comments section below.